I/O Cards: Analog, Digital, Counters, etc
Prices (Australian dollars) do not include sales tax and may change without notice.
---
Analog & Digital Data Acquisition Systems
Build a data acquisition or control system quickly and easily (no programming) using one or more of these Advantech cards, and VisiDAQ Windows software . VisiDAQ Standard, a powerful Windows drag & drop program is supplied free of charge with applicable Advantech cards.
See other page for external wiring boards for signal conditioning and easy connection.
PC-LabCards: for PC, ISA & PCI Bus
Jump to
Analog I/O cards
---
ADAM-3000 Signal Conditioners
with 1000VDC isolation (input/output/power) and 100dB common mode rejection. Protect your instruments and process signals from the harmful effects of ground loop, motor noise, and other electrical interference.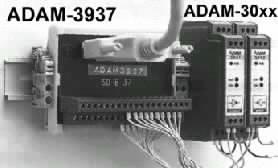 DIN rail mounting, signals can be connected through screw terminals. The screw terminal and input/output configuration switches are built inside the industrial grade plastic package. With simple two-wire input-output cables, wiring is easy and reliable under harsh industrial environments.
ADAM-3000 modules use +24VDC.