Edgeport USB to Serial ports - up to 16 ports
Digi
---
---
EDGEPORT USB TO RS-232 SERIAL DB9, up to 16 ports - Digi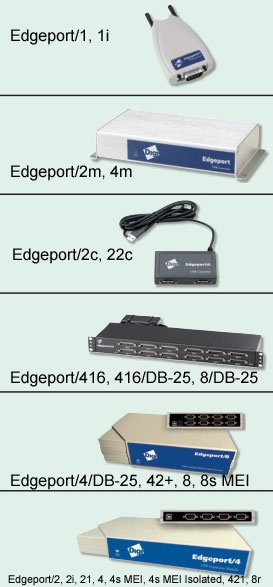 • Add 1, 2, 4, 8, or 16 serial ports to a PC, thin client or server in minutes
• RS-232, RS-422, or RS-485 serial ports (software selectable) rzo
• USB, parallel ports or powered USB ports also available
• Galvanic isolated, industrial, compact and rugged metal models
• Rack-mount options
• Designed for peripheral device connectivity in retail stations, self check-out systems, emergency vehicles, kiosks, ATMs and more
• Multi-interface, software selectable MEI, galvanic isolated, USB PlusPower, industrial, compact and metal models
• Low total cost of ownership with external, user- installable solution
• EdgeUSB technology makes it possible to use Digi's USB products on Windows NT and Windows NT Embedded systems
Edgeport USB-to-serial converters offer an easy Plug and Play solution for COM port expansion.
An external box alternative to PCI cards, Edgeport connects serial devices to a PC or server's USB port, eliminating the need to open the chassis, reconfigure and reboot.
Simply plug in the Edgeport and in minutes gain up to 16 serial ports to connect bar-code scanners, printers, or any serial peripheral device.
Brochure Edgeport USB to RS232 (pdf, 4 pages, opens in new tab or window)
Part Numbers are listed at the end of this page.
Edgeport USB-to-serial converters offer instant I/O expansion for peripheral device connectivity.
An out-of-the-box (external) alternative to PCI cards, Edgeport makes it easy to add serial, USB or parallel ports to a PC, server or thin client in minutes - without opening the chassis, reconfguring or rebooting the system.
Edgeport is available in multiple confgurations for maximum fexibility and scalability.
Choose from compact form factors for space-prohibitive applications; single port "bump-in-the- cable" solutions for notebook expansion;
software-selectable RS-232/422/485 models to connect any type of serial device to one box; metal enclosures for rugged applications;
models with galvanic isolated ports for extended electrical safety;
and DB-9, DB-25 or RJ-45 connectors to meet cabling requirements.
Feature-rich design, reliability and unmatched operating system support make Edgeport
USB-to-serial converters ideal for mission-critical enterprise applications.
The Edgeport is an intelligent, stackable, expansion module that connects to a PC, thin client, or server via the Universal Serial Bus (USB) port, providing an out of the box solution for connecting multiple serial, parallel, and USB peripheral devices.
Baud rates from 75bps to 230Kbps
Fully compatible with USB 1.0 and 1.1; backwards compatibilty with USB 2.0
Supports serial devices, including modems, ISDN terminal adapters, printers, and point-of-sale and industrial automation applications
UARTs are backward compatible with 16550 UART and have 64-byte FIFOs for increased serial performance.
Front panel LED displays device status and serial port activity
Device uses E2PROM for field-upgradable code
Ideal for connection to 56K modems
Fully plug-and-play compliant-hot insertion, hot removal
Supports Windows Vista®, Windows Server® 2008, Windows XP®, Windows® XP Embedded, Windows NT® 4.0, Windows NT Embedded, Windows CE, Windows Server® 2003, Windows 2000; Linux; Sun Solaris (SPARC)
Power
External power supply not required for models without USB ports (USB powered);
Models with USB ports (Edgeport/421, Edgeport 416) ship with plug-mounted power supply: 120/230VAC 60/50 Hz at 5VDC @ 3 Amps max
System & Other Requirements 1 available USB type A (downstream) port
8MB RAM, 16MB recommended
No IRQ, I/O address, DMA, or memory address requirements
TECHNICAL SPECIFICATIONS
Processor: Intel 80930AD
RAM: 32K
EEPROM: 32K
UART: 64-byte FIFOs per port per direction
Products (Prices and delivery times are indicative only and may change without notice)
Edgeport Series for Microsoft Windows 10, 8, 7, Vista, XP, XP Embedded, 2000, Windows Server 2016, 2012, 2008 R2, 2003 R2, Windows CE, etc, and Linux.

301-1000-03 Edgeport/2. USB to 2 port EIA-232 Serial $282+GST 7/15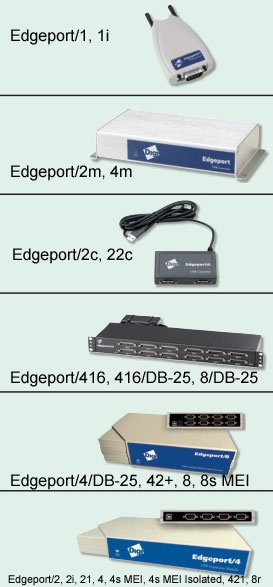 301-1000-04 Edgeport/4. USB to 4 port EIA-232 Serial $474

301-1000-12 Edgeport/2i. USB to 2 port EIA-422/485. $315

301-1000-21 Edgeport/21. USB to 2 port EIA-232,1 Parallel. - discontinued

301-1000-80 Edgeport/2m. USB to 2 EIA-232 DB-9 serial, metal chassis. $315

301-1000-81 Edgeport/4m. USB to 4 EIA-232 DB-9 serial, metal chassis. $509

301-1000-92 Edgeport 2s 2 port RS-232/422/485 serial software selectable DB-9 USB converter $360
301-1000-94 Edgeport/4s MEI. USB to 4 port EIA-232/422/485 Serial DB-9, software selectable. $589
Isolated
301-1000-95 Digi Edgeport 4s
4 isolated ports RS-232/422/485 soft selectable DB-9 USB Converter $919

301-1001-11 EdgePort/1. USB to 1 Port EIA-232 Serial. $155

301-1001-15 Edgeport/1 with 2M Captive Cable. USB to 1 port EIA-232 Serial, Captive 2M Cable $155
Bulk Packs
301-1001-15-B25 Edgeport/1 with 2M Captive Cable - 25 pack.
USB to 1 port EIA-232 Serial, Captive 2M Cable. $3,074

301-1001-21 EdgePort/1 25 Unit Bulk Pack Edgeport/1. $3,047

301-1001-22 EdgePort/1 100 Unit Bulk Pack Edgeport/1. $10,932
301-1001-31 Edgeport/1i. USB to 1 port EIA-422/485 Serial DB-9. $228


301-1002-08 Edgeport/8. USB to 8 port EIA-232 Serial. $692

301-1002-14 Edgeport/8r. USB to 8 port EIA-232 Serial RJ-45. - discontinued

301-1002-98 Edgeport 8s 8 port RS-232/422/485 . Software selectable DB-9 USB Converter $1,046


301-1003-10 Edgeport/2c. USB to 2 port EIA/232 Serial DB-9. Edgeport Compact USB Converter.
Small form factor, captive (attached) 2m USB cable; for Windows 95, 98, 2000, XP, XP Embedded, NT4.0, NT Embedded, CE, Me, SE $226

301-1003-30 Edgeport/22c. USB to 2 port EIA/232 Serial DB-9; 2 USB ports. Edgeport Compact USB Converter.
Small form factor, captive (attached) 2m USB cable; for Windows 95, 98, 2000, XP, XP Embedded, NT4.0, NT Embedded, CE, Me, SE $240


301-1016-01 Edgeport/4/DB-25. USB to 4 port EIA-232 Serial, DB-25.
Ships with a universal appliance input allowing the use of country specific AC power cords. Power Cord NOT included. $474

301-1016-08 Edgeport/8/DB-25. USB to 8 port EIA-232 Serial DB-25. $692


301-2000-10 Edgeport/416/DB-9 # USB to 4 USB, 16 port EIA-232 serial, rack mountable.
Ships with a universal appliance input allowing the use of country specific AC power cords. Power Cord NOT included. $1,148

301-2001-42 Edgeport/42+ 4 port powered USB, two port DB-9 serial hub - discontinued

301-2004-21 Edgeport/421 # USB to 2 port EIA-232,1 Parallel, 4 USB ports. - discontinued

301-2016-16 Edgeport/416/DB-25 # USB to 4 USB, 16 port EIA-232 serial, rack mountable.
Ships with a universal appliance input allowing the use of country specific AC power cords. Power Cord NOT included. $1,148

301-9000-04 Digi Power Supply 5V/3A Wall Mount 100-240VAC, for AnywhereUSB/5, Edgeport 42 and 421 $99

301-9001-01 Digi Edgeport 19" Rack Mount Kit $155

301-9003-01 Shelf Mount Bracket. Mounts Edgeport/4 to any Wall or Shelf $110

301-9004-01 Shelf Mount Bracket. Mounts Edgeport/8 to any Wall or Shelf $110