CENTER Humidity Temperature & Multimeter Dataloggers
Sound Level - Insulation Testing - Refrigerant Detector
---
---
Jump down to
Links to other Center handheld products

Refrigerant Leak Detector - Leak Detection

Humidity & Temperature
Center 313 with data logging &
Center 310 without data logging

Humidity & Temperature ozb dbd
Dual Display
RS-232 Interface
With Window Software
16,000 Records Data Logger
Time Function
Auto Power Off
MAX MIN Function
HOLD Function
Resolution 0.1°C / 0.1°F
Includes Cable and Software
Software supports Windows 95 and later

Center 313 with logging function
also supports real-time data transfer to the PC
Includes Cable and Software (normally stocked in Australia)


Center 310 no logging function
Operate the 310 direct on PC screen, also show text & graphic data presentation, save in Excel compat. format
Brochure on Center 31x Series & opt. software
(normally stocked in Australia)
Price list: scroll down a little

Optional:
Center 310-SE PC Software for 310
(normally stocked in Australia)


Center 311 & Center 314
Also has thermocouple input K type: -200 to +1370°C
Triple Display. (Delivery time 4 weeks ARO.)

Center 314 with data logging
with dual inputs: $550+GST 5/05
Has a combined temp/RH probe (same as the other meters) on a curly cord, plus an extra input for the K thermocouple.

Center 311 no logging function
Has dual inputs as above: special order

Software supports Windows 95 and later versions

Price list: scroll down a little

Specifications of Center 313

Measurement Range: Humidity: 0~100%RH
Temperature: -20°C ~ 60°C

Accuracy:
Humidity: 0 ~ 100%RH.... ±2.5%RH
Temp.: -20°C ~ 60°C.... ±0.7°C

Input Protection: 60V DC or 24Vrms AC Maximum
Battery: 9V. NEDA 1604. IEC 6F22. JIS 006P
Operating Temp: 0°C to 40°C (< 80% humidity)
Storage Temp.: -10°C to 60°C (< 70% humidity)
Dimension: 184mm x 64mm x 30mm
(7.25" x 2.5" x 1.2")
Weight: Approx. 210g

Software supports Windows 95 and later versions.

Accessories:
Operation manual
9V battery
Carrying case
RS-232 cable

Brochure on Center 31x Series
(pdf file, opens in new tab)


---

Data on Center 313 with logging
Data on Center 310 without logging

Data on Center 311 (2 temp. inputs)
Data on Center 314 (2 temp. inputs, logger)
Center 316 Humidity & Temperature Meter with dew point, web bulb
Measurement Range:
Humidity: 0%RH ~ 99%RH
Temperature: -20°C ~ 60°C
Wet Bulb Temperature Range: -20°C ~ 60°C
Dew Point Temperature Range: -20°C ~ 60°C
Accuracy: (at 23°C ± 5°C)
Range Accuracy
5% to 95% RH ±3% RH
-20 to 60°C ±0.8°C
Resolution: 0.1%RH , 0.1°C
Response Times: (@ t90; in slowly moving air)
Humidity: 180 sec
Temperature: 10 sec Larger picture: click here
Center 316 Humidity & Temperature Meter with dew point, web bulb: $346+GST
Prices:
Center 310 Portable RH & T Meter 0-100RH, -20 to +60C $330+GST see above 8/13
Center 310-Cal33 RH Calibration Bottle 33% for 310 series $POA
Center 310-Cal75 RH Calibration Bottle 75% for 310 series $POA
Center 310-SE PC Software for Center 310 $POA
Center 313 Portable RH meter / T 16000 data + software $525 see above 8/13
Center 316 Humidity & Temperature Meter with dew point, web bulb: $346+GST see above 8/13
---
CE-122 Multimeter Data Logger - True RMS - 4-digit
True RMS
32000 records Datalogger
Backlit LCD
Shock absorbing holster

1ms Peak (Max/Min) function
High speed bargraph
Full specs. on CE-122 (Center site, opens in new tab)
Data sheet on CE-122 (pdf file, opens in new tab)
RS232 Interface - SlimCom, and Windows software for PC display of data
32,000 reading data logger
1ms peak, max-min function
LED backlight - 4 digits Auto power off
Ranges: DC mV & V, AC mV & V, DCµAmps & Amps, ACAmps, Ohms,
Capacitance, Frequency, RPM, Temperature, Diode test, Continuity sound if <40ohms
Battery: 9V x 1
Dimensions: 209 x 94 x 48mm Weight: 600g
Standard Accessories: Battery, test lead, holster, temperature converter, K-type bead sensor, instruction manual
CE-DM122: Price includes the software and comms cable See price list below
Prices:
Center DM110 Digital Multimeter 3 3/4 digits, Auto range or manual $146 /06
Center DM110-Boot Rubber Boot for DM110 $50
Center DM122 Digi Multimeter with data logging 32000 readings,
Acc DC Volts 0.3%, AC Volts 0.5%, Auto range, RS232 interface $445
Capacitance Temperature Frequency AC/DC 10A True RMS Continuity Diode RPM Peak fn Windows software
Center DM201 Clamp meter AC/DC 400A 600V $280
Center DM221 MiniDigi AC Clamp 600A 600V Auto Ranging $130
Center 340 Thermo Recorder - temperature datalogger
CENTER 340 is a temperature datalogger.
Even though these units are focused on data collecting, we placed a LCD to show the operator on site information.
In case of dark environment, it is also equipped with backlit display. Both units feature a real time clock inside so that the event are captured with time stamps.
The recording memory can hold up to 64000 records which can provide high resolution test results.

With waterproof housing, the temperature datalogger 340 has a lot of applications such as environmental monitoring, food transportation process monitoring, or air condition monitoring, etc.
The data is downloaded through IR photo interface so the connector is not damaged by water.
Backlit LCD
Battery status indicator
Memory status indicator
Wall mount accessory included
Waterproof
64000 records datalogger
PC interface
Specifications: The specifications are subjects to change without prior notice.
Range: -30 to 70°C; -22 to 158°F
Accuracy: ±0.7°C; ±1.3°F Resolution: 0.1°C; 0.1°F
Battery: 1.5V AAA x 2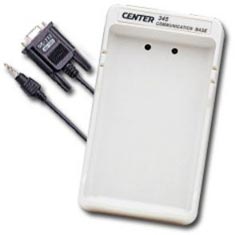 Standard Accessories: Battery, instruction manual, wall mount hanger
Optional: CENTER 345 Communication Base, including RS232 or USB cable, software. See picture right.
With Windows software
Dimensions:
Recorder: 92 x 55 x 21mm, Weight: 60g, Base 107.5 x 59 x 25.5mm Hanger: 106.5 x 59 x 25.5mm
Data on Center 340 (Center site, opens in new tab)
Centre 340 Temperature Logger, Disp, -30 to +70°C, 64KB memory: $193+GST 8/13

Center 340 SW & Base
PC software for evaluation and processing of data recorded by PST-C340 bundled together with communication base and RS232 cable.
Turn recordings into quality reports! Screenshot (opens in new tab)
Communications Bay, PC software and RS232 cable
Can support many PST-C340 data loggers
Communicates via optical link, ie less mechanical wear and tear
Compatible with Microsoft Windows operating systems version 98SE onwards
The PST-C340SW&Base communications kit is required for PC communication with the PST-C340 temperature data logger.
Communication with data loggers is optical interface ensuring long life and minimal wear over long periods of usage.
One PST-C340SW&Base kit can be used to communicate with many data loggers.
The software package allows you to view, graph, store and recall data captured by the PST-C340.
This product kit requires one or more PST-C340 units for its operation.
Center 340 SW&Base: $94+GST 8/13

Center 342 RHKit
The ideal starter package for temperature & Relative Humidity data logging
Center 342 - RH&Temp data logger, 32K, Display $333+GST 8/13
Center 342 SW &Base - Software and docking station $94+GST
... bundled together in a very competitive package.
---
Temperature 300 301 302 303 304 305 306 307 308 309 374 378 RTD 370 372 375 376 Infra-Red 350 352
Humidity & Hygrometers 310 311 313 314 315 316 317 318 31
Sound Level 320 321 322 325 326 327 328 329 390 Graphic Recorder
Insulation Testers 360 361 362
Clamp Meters 20 21 200 201 202 210 211 212 220 221 222 223 232 235 250 251 252 260
Sound Level - Hygrometers - Gas_Detectors - Light Meters - Anemometers
---
Center 380 Refrigerant Leak Detector
This unit can detect the refrigerant leak of R-134a, R-404A, R-407C, R-410A, R-22 etc. Freon gas.
CENTER 380 Refrigerant Leakage Detector is the perfect tool for maintaining the air-condition or a cooling system with compressor and Refrigerant. This unit used newly developed semi-conductor sensor which is extremely sensitive to variety of general used refrigerant.
Detector Applications:
Air Conditioning, Automotive Air Conditioning, Business Cooling, Industrial Cooling, Heat Pump

Microprocessor Control with advanced digital signal processing.
Semiconductor gas sensor.
High / Low Leak Sensitivity Selector
Detectable Gases: R-134a, R-404A, R-407C, R-410A, R-22, etc
Sensitivity: 6g/year
Alarm Method: Buzzer alarm, LED bar Indicator
Detection Tube Length: 15 inch (390mm)
Alarm Method: Buzzer, Tricolor LED bar Indicator
Snake Tube Length: 390mm (15") flexible stainless probe
Auto power Off: 10 minutes
Ambient Concentration reset.
Equal Sensitivity to CFCs, HCFCs and HFCs.
Low battery indication.
Reference Leak source included.
Carrying case included.
Warm-Up Time: 90 sec
Battery: 1.5V AA x 4
Dimensions: 173 x 66 x 56mm
Weight: 400g
More data on Center 380 (Center site, opens in new tab)
---