Climacheck Refrigeration Analysis
---
Prices do not include GST and may change without notice.
---
ClimaCheck Performance Analyser optimises heat pumps and refrigeration, freezing and air condition equipment.
The energy efficiency increases while the wear decreases resulting in lowered costs, as well as minimized carbon dioxide emissions.
The product consists of a data logging system and the Climacheck software which runs on a PC, and calculates system COP in real time.
COP: Coefficient of performance, in thermodynamics, the ratio of the output heat of a pump to the supplied work.

If kW sensors are included, the unit will also determine cooling and heating capacities.
A typical data logging kit for field analysis consists of:
- High and low pressure transmitters
- 8 off temperature sensors
- Data logger and configuration software
- Climacheck software
- Power meter/sensor and associated cables and connectors
- CT's for use with power meter
- Miscellaneous accessories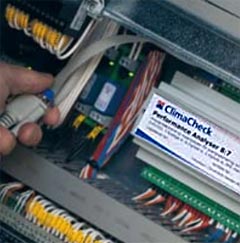 The Climacheck refrigeration analysis solution is based on over 15 years of experience in the "Refrigeration analyser" or "ETM"-method. This method has been widely accepted and used in Sweden and around the world for field testing of refrigeration equipment, performance verification and system optimisation.
By inspecting your equipment with our Performance Analyser, you will get lower electricity costs, improved dependability and less need for repairs. Every improvement will be fully documented.
You can install ClimaCheck Performance Analyser in your system permanently.
It gives you the option of receiving alerts by SMS or e-mail if problems arise.
Service can be initiated before any disturbances in the operation occur. You will also receive detailed information on how the performance of your equipment varies with time.
An EU directive calls for performance inspections of all air conditioning equipment with an effect of 12 kW or more and this directive is becoming law in many European countries. ClimaCheck is the most cost effective way to make this inspection.
You can reduce the energy consumption and obtain higher reliability with fewer repairs, through documented Performance Inspections using the ClimaCheck "Internal Method".
Performance analysis can be achieved with temporarily installed sensors during maintenance, or with permanently installed sensors that you can continually or regularly monitor. In addition, these can be used to send alarms in the case of refrigerant leakage, decreased compressor effciency, fouled heat exchangers and so on.
Early warnings make it possible to perform vital service before the system fails completely or capacity decreases suffciently to interfere with production or human comfort.
ClimaCheck PA Pro Central unit:
Inputs:
Temperature Inputs: 8 Pt1000, (-50°C to 150°C)
Analogue Inputs: 8 with selectable ranges (0-10 V / 0(4)-20 mA)
Digital Inputs: 8
Memory: 1 Mb (approx. 8000 Data Lines)
Communication Ports: Ethernet, RS485, RS232
Power supply: 12 VDC
ClimaCheck PA Pro Accuracy
Temperature: ±0.25°C
Analogue inputs:±0.1% FS
EP Pro Electrical power/energy meter: ±1%
See brochure for more information:
Brochure on ClimaCheck (pdf file, opens in new tab or window) User Manual
100105 ClimaCheck PA Pro - Complete field kit
This has 16 analogue inputs and 8 digital inputs.
Rugged Carry Case, including Data Logger and all sensors.
Dimensions: 501 x 279 x 193 mm, Weight: 11 kg
Equipment included:
ClimaCheck PA Pro Central Unit
ClimaCheck EP Pro electrical power meter Class B
Pressure Transmitter 0-10 Bar(g),
Pressure Transmitter 0-35 Bar(g),
Temperature Sensors: 8 off Pt1000 class A,
Voltage Probes, current clamps 3 off 100:1 A
All necessary cables, mounting material for sensors and battery eliminator
100950 ClimaCheck Pa Pro fixed installation (LAN)
Remote monitoring of system status and data is possible via broadband or GPRS
communication from any location with Internet connection.
If refrigeration system performance deteriorates, or, for example, refrigerant leakage occurs,
an alarm can be sent by SMS-text or Email.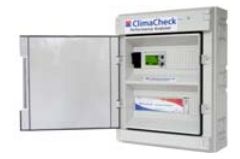 The PA Pro is supplied in either
DIN-rail Mounting format or in a Custom Panel Housing.
Dimensions: 380 x 295 x 135 mm
Equipment included:
ClimaCheck PA Pro Central Unit
Pressure Transmitter 0-10 Bar(g), cable
Pressure Transmitter 0-35 Bar(g), cable
Temperature Sensors: 8 off Pt1000 Class A
ClimaCheck EP Pro power/energy meter, transformers.
Accessories / Sensors
ClimaCheck offers a complete program of sensors and accessories including:
Modem GSM/GPRS
Flow and energy meters for secondary system
Humidity meter
ClimaCheck on-line
ClimaCheck on-line web server receives data from ClimaCheck systems on-site,
and performs calculations that can be checked by any user with proper user and password info.
The server can be set to generate SMS and E-mail alarms on any parameter.
Templates and products for special applications