Oscilloscopes, Instruments, Power Supplies,
Logic Analyzers, etc
---
Prices (Australian dollars) exclude GST and may change without notice.
---
Jump down to
Oscilloscopes Oscilloscope Probes Logic Analyzers Spectrum Analysers

Power Supplies Programmable DC Power Supply DC Electronic Load

Function Generators
Kikusui - Power Electronics, Test, Measurement

Thurlby Thandar Instruments
---
Jump to other pages
iPad Tablet based instruments
- Oscilloscopes - Logic Analysers
- Spectrum Analyser for 2.4GHz ISM band
(ISM band: Industrial, Scientific and Medical band radio frequencies) Low cost test equipment

Oscilloscope Modules which make your PC into an oscilloscope (different page)
Test and Measurement via USB - USB Scope, USB Function Generator,
USB Pulse Generator, USB Frequency/Period counter
---
Oscilloscopes - Power Supplies
Good Will Instrument Company Goodwill
Oscilloscopes - Spectrum Analyzers - Power Supplies - Signal Sources - Function Generators - Multimeters - Others
In-Circuit Tester - Factory Automation Equipment / other T&M
Audio Video / Public Address system
Good Will Instrument Co Ltd: GW Instruments is Taiwan's leading manufacturers of test and measuring instruments.
One of Taiwan's first T & M manufacturers with ISO9002, GW maintain their lead with advanced designs and competitive pricing.
The GW range covers analog oscilloscopes, generators, power supplies and a broad range of bench meters.
GW is the most popularly recognized brand in Australian colleges and universities, supplying products to the demanding educational sector since 1981.
Good Will Website dln
Oscilloscope probes are usually included.
---
Good Will Oscilloscopes
Good Will Oscilloscope data (opens in new tab)
Probes are included Prices do not include 10% GST Good Will home page
Digital Storage Oscilloscopes

Real-time/Digital Storage Oscilloscopes
Analog Oscilloscopes
Logic Analyzers
Oscilloscope & Training Kits
Handheld digital oscilloscope & Multimeters

---
Rigol Oscilloscopes
Rigol Site (opens in new tab) then click on the picture at right.
Rigol's line of digital oscilloscopes helps achieve faster debugging and testing with powerful functions and compact designs at an affordable price.
Our family of ultra-modern scopes deliver Best-In-Class features set at a fraction of the cost.
Compare our memory depth, frames of waveform recording and sample rates and you?ll like what you see.
Bandwidth up to 1 GHz
Memory up to 140 Million Points
Sampling up to 5 GSa/s
All our scopes are packed with features including FFTs, Persistence, Zoom, X-Y plots, roll mode, record mode, and more
---
Logic Analyzer
LA-2025, LA-2050 Stand-Alone Logic Analyzer Series
Provides the best measurement solution
The LA-20 Series helps minimize users' project risk by providing the most reliable,
accurate data capture and a complete view of system behavior. kdzo
These products are ideally suited for users on hardware/ software debugging,
parametric, mixed signal testing, and complex debugging.
Moreover, their compact size and ability to connect with a PC for analysis
and data logging makes them an ideal solution at remote sites.
Data sheet (pdf file, opens in new tab)
---
Spectrum Analysers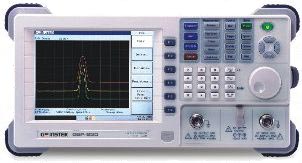 Good Will Spectrum Analyser data Good Will Home Page
GSP Series Spectrum Analyser
Spectrum Analyzer GSP-Series dln
The GSP-Series spectrum analyzer, based on full synthesis and low noise design, has numerous testing functions, including Marker Measurement, Peak Detect, Power Measurement, Limit Line, Dual Trace, and Trigger. Quick- and easy-to-use makes the GSP-Series truly convenient.
The GSP-Series is equipped with diverse and flexible functions, user-friendly operation, and a complete set of optional items. It fits a broad range of applications from laboratories, eudcation, manufacturing, to service fields. The GSP-Series represents a remarkable achievement in GW Instek's design technology.
RF & Spectrum Analyzer Training System
The GRF-3300 Series RF training system combines RF syllabus, basic theory and systematic demonstrations with hands-on experimentation. The training system design combines the training kit with important embedded circuitry and test/measurement applications, creating an effective way to learn RF knowledge base from both educational and practical aspects.
---
Good Will Power Supplies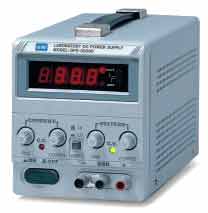 Good Will Power Supplies (opens in new tab)
APS AC Power Supplies: 300 to 1000VA dln
PSS- PST- PPE- PPT- PPS- PSM- Programmable Linear DC
SPS- Switching
PSP- PSH- Programmable Switching DC, LCD display
GPR- GPS- D.C. Power Supply Single Output Output
GPS- Multi-Output D.C. Power Supplies
GPC- Triple Output D.C. Power Supplies
PEL- Electronic Load
---
LPP-3030T Programmable DC Power Supply Series
Provides two completely separate power output
LPP-3030T provides a higher stability in terms of traditional Programmable DC Power Supply.
LPP-3030T, linear programmable DC Power Supply Series support USB PC-Link and two completely separate power outputs. kdzo
With the various characteristics, LPP-3030T is the best choice of power supplies for engineers.
With the functions of the power supply of LPP-3030T, it provides
two completely separate power output with ability for series or parallel connection;
(other than the common power supplies on the market of positive / ground / negative output.)
In addition, LPP-3030T supports low-voltage digital circuits, also it is able to switch voltage 1.8V~5.0V.
With its characteristics of stability and high-speed twinkling reaction, LPP-3030T provides high quality at a very economical price.
Data sheet (pdf file, opens in new tab)
mPD-501 DC Electronic Load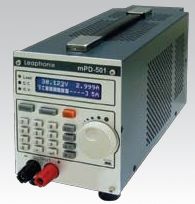 mPD-501 DC electronic load mainly focuses on the testing of power circuit on PCB.
Current: 0~8A Voltage: to 40V kdzo
mPD-501 offers a solution for function test of Switch step up, Stepdown, Regulators and Driver IC.
Engineer puts components, such as CPU, DSP, FPGA; etc on a PCB after the power circuit has been tested.
It's not complete to use a meter to measure the voltage.
mPD-501 offers engineer OVP, OCP and OPP functions that help engineer know the value of overload current.
On the other hand, engineer can use a programmable DC power supply (mPP series) to offer external power and connect PCB's output to mPD-501.
Then engineer can easily get output watt, figure out the efficiency of power circuit and check if inductances, capacitances and resistances
perfectly work with the power circuit.
mPD-501 not only offers loading emulation of current but also provides OVP and OPP.
User can use these functions to test solar power battery, rechargeable battery and motor driver.
In school laboratory, mPD-501 helps students do experiment on power circuit, linear circuit and driver circuit.
Data sheet (pdf file, opens in new tab)
● Constant current (C.C) & constant voltage (C.V) emulation.
● Display real time voltage, current and watt.
● Both of C.C and C.V mode have 3 sets of memory
● Over current protection (O.C.P), over voltage protection (O.V.P) and over power protection (O.P.P).

---
Good Will Function Generators
Data on Good Will Function Generators dln
Arbitrary Function Generator
DDS Function Generator
Analog Generator
Other Signal Sources: FM/AM & Audio Generator
suggested alternatives: TGR1040 & TGR2050 (Thurlby)
see TTi Products: click here
Click the Data link above to see the various features in a table.
---
Kikusui Electronics
Kikusui Electronics Products dln
Power Electronics Equipment
DC Power Supplies AC Power Supplies Power Supply Controllers Electronic Loads & Battery Testers
Test & Measurement Equipment
Electrical Safety Testers EMC Testers Harmonics & Flicker Tester Fuel Cell Impedance Meters

Battery / Capacitor Tester Jitter Meters Signal Generators Test & Measurement
Application Solutions & Accessories - Software Products Rack Mount Accessories
---
Oscilloscope Probes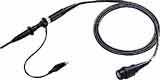 GCP-210L (Good Will) x1/x10, 60MHz, dln
10:1 setting: DC to 40MHz 1dB, DC to 60MHz 3dB, 10Mohms, 22pF
1:1 setting: DC to 3MHz 1dB, DC to 6MHz 3dB, 1Mohm, 180pF
Capacitance at oscilloscope input end: 20pF
Max input voltage: 600VDC
GCP-210L Probe, x1/x10, 60MHz, for one, $70+GST each, for two: $60+GST each Prices are approximate only 10/08
Elditest Probes: Elditest is a highly respected European manufacturer of high quality test and measurement accessories such as oscilloscope probes, differential probes, test leads, patch leads, cables, co-axial adaptors
GW OSCILLOSCOPE PROBES
GCP-210L DC-60 MHz, 10:1, 1:1 $73+GST Prices are approximate only 10/08
GTP-060A DC-60MHz, FOR GDS-806S/806C $85+GST
GTP-100A DC-100MHz, FOR GDS-810S/810C $89
GTP-150A DC-150MHz, FOR GDS-820S/820C $94
GTP-250A DC-250MHz, FOR GDS-840S/840C $124
ELDITEST OSCILLOSCOPE PROBES
STANDARD PASSIVE PROBES
GE-1521 DC-150MHz, 1x/10x, 1.2m length $155
GE-1522 DC-150MHz, 1x/10x, 2m length $169
GE-2521 DC-250MHz, 1x/10x, 1.2m length $185
GE-2522 DC-250MHz, 1x/10x, 2m length $195
GE-4511 DC-450MHz, x10, 1.2m length $280
HIGH VOLTAGE PROBES Data sheet on GE-3121 GE-3122 GE-3125 VCR = Voltage Coefficient Ratio, ppm/V
GE-3121 2kV, 100x, 50Mohms, 5.0pF, 150MHz, 2.3nsec rise time, 10...30pF comp., VCR <30, 1.2m cable
GE-3122 as above, 100MHz, 3.5nsec risetime, VCR <30, 2m cable
GE-3125 as above, 150MHz, 2.3nsec risetime, VCR <0.5, 1.2m cable
GE-3421SA 4kV, 100MHz, SMD technology
GE-3121 2kV, DC-200MHz, 100x, 1.5m length $310
GE-3122
GE-3125
GE-3421SA 4kV, DC-100MHz, SMD TECHNOLOGY $653
HF DEMODULATION PROBE
GE-7011 800MHz HF DEMODULATION PROBE $210
DIFFERENTIAL PROBES
GE-8100 FLOATING SIGNALS UP TO 700V $975
GE-8115 FLOATING SIGNALS UP TO 1500V $1234
---
Thurlby Thandar Instruments
Laboratory Power Supplies - Bench and Bus Programmed
Function Generators - Function Generators, Pulse Arbitrary and Synthesized RF
Precision Measurement - DMMs, Counters, LCR, EMC, Mains & Harmonics
Logic & Data Analysers, Logic Analysers, Serial Protocol Analysers
---