MicroLite USB Small Data Loggers - Fourtec
Full featured USB data loggers for temperature, humidity, voltage and current
Fourtec MicroLite Overview
Accurate, portable and cable-free range of USB loggers
Accurate measurement of temperature, humidity, current and voltage
Low cost
Compact size for applications requiring mobile logging, such as transportation
Direct USB interface to PC. No cables required
Unique Boomerang feature that automatically creates and emails PDF data report when logger is connected to PC
Up to 32K cyclic memory
LCD for real-time data and battery display
LED for alarm and sampling indication
Magnet key for standalone logger activation
Easily replaceable battery with up to 1.5-year life, in normal operating conditions
Cradle for wall mounting
Dust and water resistant (depending on logger model)
Free, full featured DataSuite software for data analysis and device setup
Excellent documentation (check it out below!)
The family of MicroLite USB data loggers includes six models covering temperature, humidity, current and voltage measurements, providing the ideal solution for a wide range of applications. All models are single channel (except the humidity and temperature logger).
Combining innovation with simplicity, the MicroLite product line offers cost effective data logging, with rich functionality in a compact design, direct USB connection, multi-trip usage, and high measurement accuracy and resolution.
Real-time sensor readings with a corresponding time stamp are clearly displayed on the logger's LCD screen, incorporating alarm thresholds. The logger is designed for low power consumption to extend battery life and reduce the time between battery replacements. User upgradeable firmware lets you take advantage of future upgrades effortlessly.
The comprehensive MicroLite range allows you to select the device most appropriate to your mission-critical application.
MicroLite Brochure 2019 (PDF, opens in a new tab)
DT332N – External Temperature Needle Probe
---
External NTC Temperature Sensor with Needle probe – suits DNL808A and MicroLite EXT.
Click here to show/ hide more info
The NTC temperature probe connects to the external input of the data loggers, Mini DataNet wireless temperature (DNL808A-BXT) and MicroLite external temperature LITE5032P-EXT-A to support measurement over a range of -50 to 150 °C. The probe has a rapid temperature response time, 1.5 m cable length and 3.2 mm diameter, with its stainless steel needle tip, is suitable for multiple applications including food, liquids and ambient monitoring.
When connected to the supported data logger, the probe readings can also be calibrated using the DataSuite for DataNet software.
One NTC temperature probe is supplied with each purchase of the Mini DataNet DNL808A-BXT and MicroLite LITE5032P-EXT-A data loggers, but additional probes may be purchased from your Fourtec distributor.
Specifications:
| | |
| --- | --- |
| Temperature sensor type: | NTC 10kΩ |
| Temperature sensor range: | -50 to 150 °C |
| Probe type / length / diameter: | Stainless steel / 100 mm / 3.2 mm |
| Probe tip: | Needle |
| Cable type and length: | PVC, 1.5 m |
| Cable temperature range: | -40 to 105 °C |
| Connector type: | Universal 2-wire connector |
11597 – Replacement MicroLite Activation Magnet
---
The magnet key is supplied with every MicroLite purchase, inside the logger packaging.
Click here to show/ hide more info
The magnet key is supplied with every MicroLite purchase, inside the logger packaging. It is used to operate the MicroLite's reed relay for activating the logger as well as stopping it and marking time stamps. Replacement magnet keys are available from Fourtec.
50115 – MicroLite Plastic Wall Mount + Screws
---
Microlite Wall Mounting Bracket, including screws & anchors
Click here to show/ hide more info
Included is one plastic wall mount with two sets of screws and anchors, for securing the MicroLite data logger to a wall or other stationary surface during operation. This accessories kit is included in each original MicroLite packaging but you may also purchase a replacement kit from your Fourtec distributor.
DataSuite-CFR – DatPass CFR Admin Software for MicroLite
---
Note: DataSuite for MicroLite software is a free download from
www.fourtec.com
DataSuite CFR software module (for MicroLite), meeting 21 CFR Part 11 compliance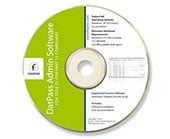 Click here to show/ hide more info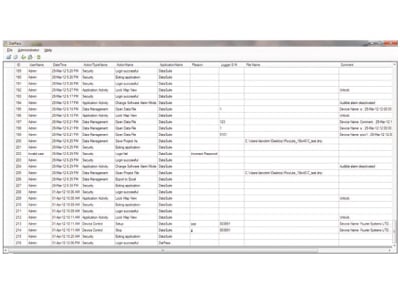 DatPass is Fourtec's administration management software, integrating with the DataSuite and MicroLab applications to help achieve FDA 21 CFR Part 11 and GAMP 5 compliancy for a range of Fourtec data logging systems, including the MicroLite.
The DatPass database, installed on a local PC or network, maintains an audit trail that automatically records all user activity within DatPass and DataSuite software, including date and time stamp, login details, input alarms details, and so on. The DatPass administrator can view the audit trail on screen or print any part of it in order to keep hard copy records.
DatPass is also used to manage all user access to the supported systems, including user login parameters, group and user privileges for relevant software functionality, digital signatures the users are permitted to sign data within electronic records, and other key CFR requirements.
The DatPass software package is also supplied with extensive operation and validation manuals to help users meet strict industry regulations.
Specifications:
Product Part Number:
DataSuite-CFR
Software Activation:
User must activate software using unique serial number purchased from Fourtec. 30-day trial period also available.
Order shipped with:
Software CD for DatPass and DataSuite installation
System Requirements

Windows XP SP3, Vista, 7 (32 and 64-bit)
Pentium 4 2.0 GHz or better
512 MB RAM
250 MB available disk space
DatPass CFR Admin User Guide (pdf file, opens in new tab)
DatPass Software Release Notes (pdf file, opens in new tab)
DatPass and DataSuite CFR validation manual (pdf file, opens in new tab)