PicoLite Single Trip USB Temperature Data Logger - Fourtec
Single-trip Temperature Logger with Boomerang PDF Feature
Fourtec PicoLite Loggers Overview

FDA 21 CFR PART 11 Compliant
Single-trip USB Temperature Logger
Unique Boomerang feature that automatically creates and emails PDF data report when logger is connected to PC
USB connection plugs straight into a PC without cables
16,000 sample memory accommodating long-distance shipment
6-month battery life at one minute sampling
Bi-color LED for logging and alarm indication
Water and dust resistant IP68
Supported by free DataSuite software for data analysis and alarm notification
Excellent documentation and user friendly, full featured software
The compact and easy-to-use PicoLite USB data logger provides an ideal solution for temperature monitoring throughout the cold chain transportation network. Combined with the
Boomerang
feature, an innovative solution for automatically emailing trip reports back to the shipper, the PicoLite successfully meets the challenge of combining low cost, full functionality and reliability for single-trip data logging.
PicoLite brochure (pdf file, opens in new tab)
PICOLITE-II-16K – PicoLite Single-trip USB Temperature Logger
---
PicoLite USB Temperature Logger-II – Single Use – MOQ 10 pcs
Click here to show/ hide more info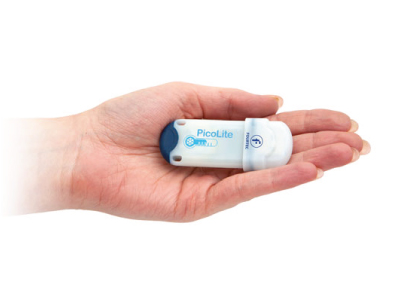 The compact and easy-to-use PicoLite USB data logger provides an ideal solution for temperature monitoring throughout the cold chain transportation network. Combined with the weboomerang™ feature, an innovative solution for automatically emailing trip reports back to the shipper, the PicoLite successfully meets the challenge of combining low cost, functionality and reliability for single-trip, low cost data logging.
Direct USB connectivity, a built-in temperature sensor, activation button and bi-color alarm LED are all key elements of the PicoLite's user-friendly design, helping reduce overheads associated with more complex multi-trip loggers in the mass transportation market. Fourtec's license-free DataSuite software is also used to configure the logger prior to shipment.
Key product benefits:
Low cost, single-trip logger for an unbroken cold chain
Internal, high accuracy temperature sensor
Unique weboomerang™ feature that automatically creates and emails PDF data report when logger is connected to PC
Direct USB interface for PC communication
16,000 sample memory accomodating long distance transports
Software enabled activation button to start logging and mark time stamps
Built in bi-color LED for logging and immediate alarm indication
Supported by the complimentary DataSuite software for data analysis and alarm notification
Water and dust resistant IP68
Delayed push button activation
Specifications:
| | |
| --- | --- |
| Product Part Number | PICOLITE-II-16K |
| Internal Temperature sensor range | -40 to 80 °C |
| Accuracy | 0.5 °C across the range |
| Sample Memory  | 16,000 samples |
| Sampling rate | One per minute to once every 18 hours |
| LED Indicator | Bi-color LED for sampling and alarm indication |
| Activation modes | Immediate, Push to Run (with optional delay), Timer Run |
| PC Communication | Via direct USB interface |
| Battery type/Life | CR2032/ Up to 6 months at one per min. sampling |
| Operating Environment | -40°C to 80°C |
| Dimensions | 74 mm x 30 mm x 13 mm |
| Weight | 15 g |
| Standards Compliance | IP68, CE, EN12830 |

Solutions:
Agriculture
Cold Chain
Food
Hospital Health
Pharmaceutical
PicoLite Quick Start Guide (pdf file, opens in new tab)
DataSuite for PicoLite User Guide (pdf file, opens in new tab)
DatPass CFR Admin User Guide (pdf file, opens in new tab)
Weboomerang User Guide (pdf file, opens in new tab)
How can I use the PicoLite to view my trip reports, quickly and easily?
For temperature-critical shipments, both controlling and monitoring temperature levels during transportation are incredibly challenging. And if that's not enough, once the shipment has reached its destination, the shipper demands immediate access to the data collected over the course of the journey. Otherwise, the integrity of the entire shipment could be at stake. You need an immediate and easy solution for getting the critical data off the logger and into the hands of the quality control team.
Here's where the PicoLite's weboomerang™ technology comes in…
Using the PicoLite's unique, patent-pending Boomerang feature combined with the weboomerangapplication, you can automatically receive a detailed trip report via email, in PDF format, as soon as the logger is connected to the PC during transit or at the final destination. No need for local email clients. You just connect the logger and the weboomerang application handles the rest, up until the report reaches your inbox.
How does it work?
Prior to shipment, activate your pre-configured PicoLite loggers or use Fourtec's DataSuite software to manually configure the units at point of origin with the email addresses of the intended report recipients.
On the destination computer, install the weboomerang application (only 1.5 MB). It runs quietly in the background, always connected to Fourtec's cloud server. As soon as it detects a PicoLite logger, the data report is generated immediately and delivered via our server to the email addresses saved to the device's memory. We even save a copy of the report to the local computer.
Click here to read more about the weboomerang application.
DataSuite-CFR – DatPass CFR Admin Software for PicoLite
---
DataSuite CFR software module (for PicoLite), meeting 21 CFR Part 11 compliance.
Note: DataSuite for PicoLite software is a free download from www.fourtec.com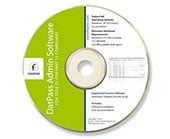 Click here to show/ hide more info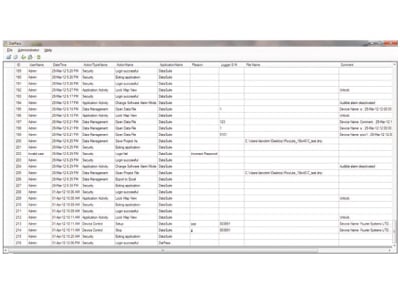 DatPass is Fourtec's administration management software, integrating with the DataSuite and MicroLab applications to help achieve FDA 21 CFR Part 11 and GAMP 5 compliancy for a range of Fourtec data logging systems, including the PicoLite.
The DatPass database, installed on a local PC or network, maintains an audit trail that automatically records all user activity within DatPass and DataSuite software, including date and time stamp, login details, input alarms details, and so on. The DatPass administrator can view the audit trail on screen or print any part of it in order to keep hard copy records.
DatPass is also used to manage all user access to the supported systems, including user login parameters, group and user privileges for relevant software functionality, digital signatures the users are permitted to sign data within electronic records, and other key CFR requirements.
The DatPass software package is also supplied with extensive operation and validation manuals to help users meet strict industry regulations.
Specifications:
Product Part Number:
DataSuite-CFR
Software Activation:
User must activate software using unique serial number purchased from Fourtec. 30-day trial period also available.
Order shipped with:
Software CD for DatPass and DataSuite installation
System Requirements

Windows XP SP3, Vista, 7 (32 and 64-bit)
Pentium 4 2.0 GHz or better
512 MB RAM
250 MB available disk space
DatPass CFR Admin User Guide (pdf file, opens in new tab)
DatPass Software Release Notes (pdf file, opens in new tab)
DatPass and DataSuite CFR validation manual (pdf file, opens in new tab)