Esis is pleased to announce the launch of the waterproofed, anti-vibration and PLC compliant Ethernet Switch EKI-2528I-M12, aiming at any harsh environment with dust, high humidity and vibration, from Advantech Intelligent Connectivity Group (ICG).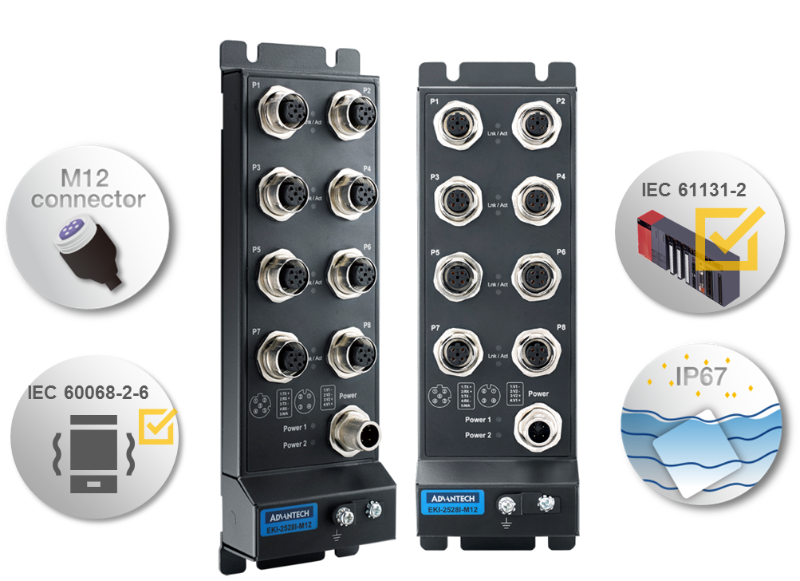 Compliant with IP67 and IEC 60068-2-6: 5G
The EKI-2528I-M12 Ethernet switch is designed with a high IP67 degree of protection, working perfectly under moisture condition to guarantee users a waterproof, dustproof and anti-corrosive network environment. Being compliant with IEC 60068-2-6: 5G standards further allows it to work against severe, continuous vibration. Thus the EKI-2528I-M12 is ideal for traditional machine tools, numerical control (NC), and computer numerical control (CNC) and DNC.
Complies with IEC 61131-2 certifications
IEC 61131, was known as IEC 113, is an IEC standard especially for programmable controllers (PLCs). The EKI-2528I-M12 fully complies with the IEC-61131-2:2017 that specifies function and electromagnetic compatibility and related verification tests, so as to be suitable for PLC and/or PAC applications and their associated peripherals.
Slim size with high port density
The high port density feature of the EKI-2528I-M12 makes it possible to support up to eight M12 port connections within a compact (62*25*194) housing. It is best for confined spaces since no extra room for wire deployment is required. Users simply need to screw it firmly on the wall or cabinet before enjoying the instant network communication service.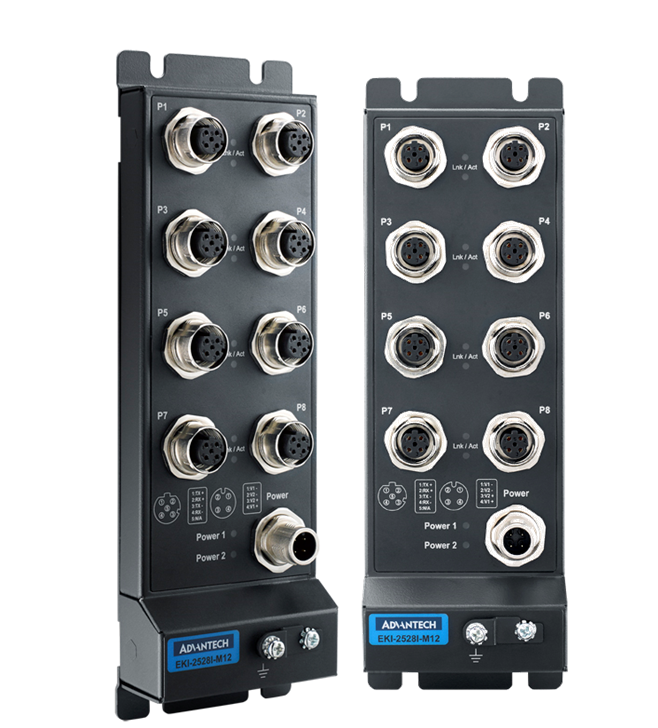 EKI-2528I-M12
8 port M12 Unmanaged Industrial Ethernet Switch, IP67
M12 Connectors and IP67 Housing
Provides 8 Fast Ethernet ports with Auto MDI/MDI-X
Supports 10/100 Mbps Auto-Negotiation
Complies with 61131-2 specifications
Supports redundant 12 ~ 48 VDC power input
Wide operating temperature range from -40 to 75 °C
ESIS is the leading supplier of industrial electronic equipment in the Australian market since 1971. Choose from a range of diverse products to best suit your requirements. Contact us today to discuss your needs.
Article Courtesy of Advantech.