News
The ESIS Newsletter is published every 1 to 2 months via email, and it is also posted on our website. It contains practical technical articles, as well as new product updates and special offers.
Please click here to subscribe.
Past and current newsletters available online:
Below: Older news posts
Customer service improvements
We have recently added new staff members to our sales team. Our policy is that we will answer all new email enquiries by the next business day. If you have a question or need to check pricing and availability, please do not hesitate to email us for assistance.
Advantech product catalogs now online
The full 2009-2010 Advantech product catalogues are now available for perusal online via our website. We have split the catalogues into separate files for each chapter and provided a guide to help you find the products you are interested in.
Please click here to view the catalogues.
EKI-1500 Series wins award
Advantech's EKI-1500 series Serial Device Servers have recently received the Taiwan Excellence Award for their reliable, redundant design, fast response time and high-speed capabilities.
The EKI-1500 series includes EKI-1521/1522/1524/1528 and 1526, allowing RS-232/422/485 serial devices to be remotely monitored, managed and controlled over Ethernet and IP networks. Equipped with dual 10/100Base-TX Ethernet ports and dual Media Access Controllers (MACs), these innovative devices ensure reliable high-end Serial to Ethernet communications even in the event of a network link failure.
Please click here for more details of the EKI-1500 range.
Esis has moved premises!
June 2009 We have moved to a bigger and better premises! Our new street address is:
Suite 6, 295-299 Pennant Hills Road
Thornleigh NSW 2120
Note that our phone numbers and PO box address remain the same. Please see the Contact page for details.
We look forward to being able to provide better customer service and faster response to our customers, as a result of our expansion.
New Esis website launched
November 2008 Esis has launched a new website, with an exciting new look and vastly improved product navigation and search capabilities. The new site incorporates a complete product navigation tree on every page, allowing products to be browsed much more easily than before.
Whilst the website upgrade is in progress, some of our product pages will still be in the old format. Please bear with us whilst we complete the upgrade.
We will also be launching an online store soon, which will make it even easier to purchase many products, 24 hours a day 7 days a week. Keep checking back for updates - our online store will be live soon!
Panasonic Toughbook UMPC now available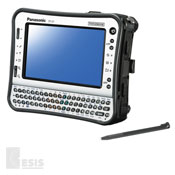 Panasonic's new CF-U1 Ultra-Mobile PC is now available in Australia. The first shipment is due to arrive mid December 2008 - just in time for Christmas!
Read More »