Esis Newsletter - April 2013
In this issue:
If you find this newsletter useful, please consider forwarding it to your colleagues. It's easy for them to subscribe as well, just by clicking the link to the right.

Note: Prices shown are subject to change without notice.
If you have any questions, please email us, or phone us on 02 9481 7420.
---
OneSteel: another happy Esis customer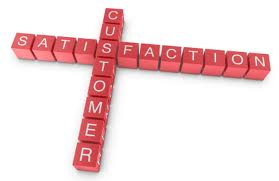 I looked around for a solution for a problem on how to monitor both the Temperature and Relative Humidity of a cable box for 22KV side of a Transformer.
I was also hoping to get it to put on our PLC system to trend it.I had contacted a few suppliers with no joy or return of information. I then found your company had sent equipment to our site for similar purposes of temperature & humidity but nothing combined and so I made an enquiry. I was pleasantly surprised at the knowledge of their systems and what was on offer to help me.
I was also able to find a unit robust enough for the usage and also versatile enough to meet all of my needs to give us a stand alone system that can be used on regular inspections of our equipment plus a simple I/O interface to suite a variety of inputs to our system.
I was greatly surprised and very happy with the items and follow up questions & answers. The units are in service and I have and will recommend to others for such needs to contact you as first and last port of call.
- David Westrope, OneSteel
How to find the best temperature to set in your server room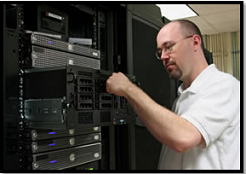 Servers and other Networking equipment are generally designed to operate within a fairly narrow temperature range.
To ensure the longevity of components contained in the machines and equipment, it is of paramount importance that they stay within the set temperature band. This is critical when you keep in mind that not all equipment are high end systems that come with auto shutdown capabilities.
It is generally recommended that a server room's temperature should not go below 10°C or above 28°C, these are extremes; thus the optimal ambient temperature is 20-21°C. It is agreed that achieving this range is usually very difficult due to a whole range of factors. A few degrees too hot and a server chip can get blown and cause a server failure; the cost of a failure can be catastrophic at a whole range of levels. It is thus important to identify and maintain an optimal temperature in the server room.
Some tips to help in achieving this are as follows:
Use an appropriately sized server room
A server room that is too small will cause the overall room temperature to greatly rise; this will in turn make the internal server temperatures to rise in tandem with the general room temperature. What this will mean is that the air conditioning settings in the server room will have to be adjusted accordingly to cool the internals of the server and the room in general.
A server room that is too large on the other hand will also overstretch the air conditioning requirements, increase the noise levels and generally be a waste of space and invite idlers into the room. It is also important to keep the doors of server rooms closed; opening the door lets in warm air which necessitates the air conditioning equipment to be turned up high.
Have control over the air conditioning system
Research has shown that many IT departments have the air conditioning system being handled by non IT personnel, basically for technical reasons. It is important to have some level of control over the air conditioning system.
Due to temperature fluctuations during the day, night or different seasons it is important that the IT function has technical knowledge, maintenance capability and change authority. Localized hotspots in the server may be prone to giving off a lot of heat during certain activities that are only known to the IT team. Left unchecked these may stress the fan and other server internals, thus reducing their lifespan considerably.
Buying new equipment like servers and switches usually means that you have machines that are running faster and hotter. The internal server temperatures are bound to rise and this will demand that air conditioning settings in server rooms be adjusted accordingly. Because the IT function has very intimate details about the workings of their equipment it is only fair that they have control over the air condition system that keeps their machines working at optimum levels.
Implement a multi-point temperature monitoring system with alarms
This can be achieved by implementing rack level monitoring in addition to monitoring the room air temperatures. The American Society of Heating, Refrigerating and Air Conditioning Engineers (ASHRAE) do recommend at least six temperature sensors on each rack. However to minimise costs, we recommend that at least three sensors be set up on each rack: at the bottom front, to verify the temperature of the cold air arriving to the particular rack; at the top front, that verifies if indeed if all cold air gets to the top of the rack; and at the hottest point which is the top back of the rack. The suggested intake temperatures should be between 18-26°C, the outtake temperatures should not go more than 37-46°C.
The importance of this approach is that it enables the engineers to have first hand information on what is happening to individual servers and how much heat each server is dissipating, rather than waiting for a room level monitoring system that relies on the general feel of the entire room.
It is also important for the temperature monitoring system to include a good alarm facility, using a combination of email / SMS / voice call alerts, to multiple personnel, so that if there is an issue with over temperatures it can be dealt with immediately before damage occurs to the equipment.
Purchase quality server and network equipment
Even though it is true that not every organization can purchase high end systems that employ advanced technologies in temperature control, lots of care should be taken when making equipment purchases.
It is important to read through the operating manual with a professional and write some notes on the optimum levels of the said equipment: What are the specific wattages of the processors? How much heat will the server dissipate? What kind of internal cooling mechanisms are adopted in the equipment? Do the fans blow in the same direction as other equipment installed in the rack? Will this equipment cause undue heating to other equipment installed nearby?
These factors in turn translate into easy to maintain and manage internal server temperatures. Once the internals are well managed, the overall server room temperature becomes easier to keep at an optimum level, which will in turn minimise excessive power usage from the air conditioner.
For a comprehensive and easy to setup environmental monitoring system, we recommend the Jacarta interSeptor and interSeptor Pro series. These flexible units make it easy to set up multiple temperature sensors in each rack, and the bundled Alert Centre service provides a sophisticated alarming system with alerts via SMS / email / voice calls and escalation across multiple personnel. Implementing the interSeptor system along with the above suggestions will minimise disruptions to your servers and allow you to maximise power savings for many years to come.
Atdec's amazing new iPad stand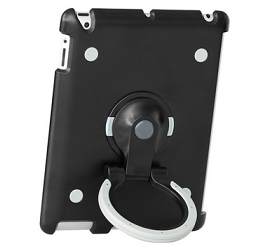 The Visidec VTB-IPS is a versatile tablet stand for the iPad 2, iPad 3, and iPad 4 that dramatically enhances usability of the iPad
The Visidec VTB-IPS provides additional protection from bumps and scratches. It enables the iPad to be comfortably seated on a desk, rested on your lap or even be attached to the headrest of a car (via the included car headrest attachment). It also provides additional support for iPad when used in a handheld setting – and offers further comfort and ergonomic support. The handle rotates 360° and allows for portrait or landscape tablet orientation and a large variety of viewing angle adjustments.
Compatibility:
Compatible with iPad 2, iPad 3 (The New iPad) and iPad 4 (with Retina display)
Can be used in conjunction with Apple iPad Smart Cover
Range of movement
Easy viewing angle and height adjustment
Landscape to portrait rotation
Installation:
Quick, easy and secure 'snap in' design
Improves ergonomics of handheld tablet use
Comes with car headrest attachment
Lightweight and portable
Warranty: 1 year
Colour: Black/Light grey
Material: Hard plastic case with soft rubber inner
New industrial LCD monitor range allows customisation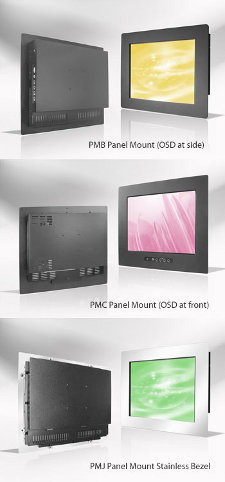 Esis has recently launched a massive range of industrial LCD monitors from CyberVisuell. The range offers many options and customisations even for small quantities.
The CyberVisuell range covers both metal cased and plastic cased monitors, with some types available in sizes from as small as 5.7" all the way up to 65". The metal cased monitors are available in several different housing designs, including "SmartChassis" which is a basic rectangular housing, as well as Panel Mount, Flush Mount, Rack Mount and Open Frame designs.
In addition, the monitors can be ordered in small quantities with customised options, including different touch screen types, IP ratings, sunlight readable and many more. This is due to the modular design of the monitors: the factory can easily install optional extras or exchange LCD panels and backlights to meet almost any customer requirement.
The range also includes marine grade LCD monitors, in two different styles: flush mount (with IP65 front and IP54 rear), or fully sealed IP66 in stainless steel. These models are also available in a wide range of sizes, and with many options.
Thanks to the efficient and personalised customer service offered by Esis, our customers can simply call us with a detailed requirement and be given a quote, with typical delivery times from 1 to 3 weeks.
For more details please check out our new LCD Monitors web pages.
Just launched: Getac Z710 rugged Android 4.1 tablet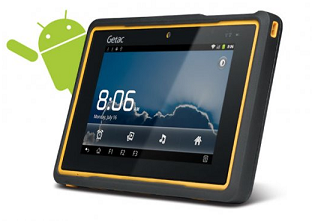 The new Z710 was designed from the inside out to be sleek, thin and tough. Getac manufactures rugged tablets right through to the chassis.
Compact and powerful, the Android-powered Z710 rugged tablet features a 7 inch touchscreen display and is ideal for field service applications and extreme work environments.
This new Android-powered Getac Z710 rugged tablet allows you the flexibility to work in nearly any environment. Perfect for data collection, data entry, PDF viewing, GPS tracking and much more, the Z710 has you covered.
Compact
Built to house a brilliant 7" display, the Z710 is small enough to hold with just one hand yet big enough to help you get your job done.
Latest Android 4.1 OS
Apps have changed the way we access and enter data remotely. Android OS makes it easy to build a custom app or use one of the many apps that can help you get your job done quickly. (app installation via USB or SD card only)
Built to Survive
The Z710 was designed from the inside out to be sleek, thin and tough. Only Getac manufactures rugged tablets down to the chassis. The Z710 is specifically engineered to be protected against drops, shocks, spills, vibration and more. The Getac Z710 is ready for whatever you can put it through.
Gorilla® Glass – The Z710 uses special damage-resistant Gorilla glass.Gorilla Glass is both tough and scratch resistant to withstand the abuses of working in extreme conditions.
LumiBond – the Z710 features LumiBond optical bonding to increase the screen durability and providing greater sunlight readability. LumiBond adhears the cover glass, touch panel and display together into one solid unit eliminating extra edges that can reflect sunlight and creating a single durable display.
Extreme Temps – The Z710 rugged tablet can be operated in temperatures from -4°F to 122°F.
Six Foot Drop – The Z710 is the first rugged Android tablet to be certified to a

MIL

-

STD

810G six foot drop rating. Combine that with the IP65 dust and water protection and the Z710 is one of the most rugged Android tablets ever built.
Glove-Friendly Touchscreen Display
We developed the Z710 using ultra-sensitive multi-touch technology to make the screen respond effortlessly to touch, press, drag and even input from a gloved hand.
Designed to Capture
The Z710 is the ultimate device for capturing data. Integrated with a barcode reader that can capture both 1D and 2D barcodes nine inches away at up to 3x faster speeds surpassing standard software-based scanners in both speed and accuracy, and a high-frequency RFID reader that scans electronic data from tags and can capture positioning data in addition to tracking purposes.
Dual Cameras
Front and rear-facing cameras can capture images or video from the field.
Fast and Accurate GPS
The Lattice SiRFstarIV™ GPS chipset provides twice the search capacity of earlier chips for faster location and improved accuracy down to 2.5 meters. Combined with its an E-compass and 3-axis accelerometer, the Z710 is the perfect device for anyone using GPS data in the field.
Connected
With WiFi, Bluetooth and 3G available, you can be connected 24/7 wherever you are, allowing you to improve productivity.
Esis offers the complete range of Getac rugged notebook and tablet PC's – please click here for more information.
PowerFox8, Intelligent Power Management Device

The PowerFox8 by Jacarta is a powerful,intelligent power management device for monitoring and controlling power in IT environments.
A feature-rich 1U 10/100 power monitoring, environmental monitoring and power switching system. PowerFox8 can monitor and log the input current, voltage and frequency as well as the current being supplied to the devices connected to each of the 8 receptacles on the rear of a unit. It is possible to remotely control the power to the connected devices either via a schedule, a timed delay or immediately.
Benefits of using the PowerFox8 as part of your system continuity strategy include:
Reduce costly technician site visits by remotely rebooting equipment via the network or modem (if network is unavailable)
Identify energy/cost saving potential by logging and analyzing power usage of your IT equipment
Receive early-warning alerts to prevent equipment damage and data loss due to environmental threats (eg. Over-heating as a result of air-conditioning failure)
Monitor real-time power and environmental conditions directly from your web browser.
Automatically remove power to connected equipment during critical alarm conditions to prevent hardware damage.
Ensure access to critical racks that can be strictly monitored.
Receive alerts from environmental sensors, including 1 temperature and humidity sensor, a door security sensor, and one additional optional sensor (water leak, smoke, security, voltage, dry contact from fire panel/security alarm system/etc.)
PowerFox8 can be quickly installed and configured. Monitoring and control of the PowerFox8 can be carried out via a web browser, Telnet, SNMP network management system or via a modem.
Disaster Prevention through Intelligent Monitoring Systems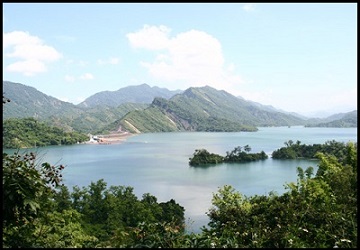 In recent years many high-profile natural disasters have made the headlines and claimed hundreds of thousands upon thousands of lives.
Many countries are beginning to realize the importance of accurate environmental monitoring systems and are developing advanced technology that can help in this. Based on the Internet of Things (IoT) concept, smart control can help us setup new lines of defenses through wireless sensor technology.
There are two commonly used disaster prevention methods:
A short-term method using automation technology to monitor weather so that residents can have early evacuation warnings and a long term approach that uses collected data through a variety of monitoring systems to create likely upcoming scenarios and provide related life-saving strategies. By using the right tools and technology, it's now possible to use large volumes of data for long-term analysis to be applied in short-term scenarios.
Features of IoT include a sensor network, reliable data delivery and intelligent processing.These features can improve current environmental monitoring systems and help provide more accurate warnings. By taking advantage of sensor devices to collect data and send it to the data center, a more complete picture can be achieved. Currently IoT technology has been adopted in several warning systems including urban flood, river, landslide, bridge, earthquake, lake and coral reef observations.
And while the methods of obtaining weather and disaster data are not new, the old technologies are not sufficient anymore and prevention projects are only initiated after a disaster has occurred. Even more troubling is that the systems used for such data collection are facing rising costs, difficult installation, communication interference, and insufficient functions.
Firstly, several key elements of the intelligent system for wide-area environment monitoring such as the sensors, cameras and other equipment need to be battery-powered to meet power supply requirements. Secondly the communication system must offer transmission over large distances to suit rugged environments, confirmation with IP66 certification and other standards are also necessary. Finally, with the Internet, central monitoring systems are easy to connect and share information. In addition, I/O monitoring, recording analysis, warning diagnostics and instant video integration are prerequisites.
Esis offers a complete range of products for IoT applications including Advantech ADAM-2000 wireless data acquisition modules with integrated battery, ADAM-4000 RS-485 data acquisition modules and ADAM-6000 Ethernet data acquisition modules. To complete a functional system we can then integrate an embedded controller, mains or solar power system with battery backup, and industrial communication products for remote access. To provide data management and control functions, custom software can be written, or else a web-based SCADA monitoring package can be used, such as WebAccess, to reduce the difficulties of system integration.
From the single-ended monitoring of the past to the integration of multi-monitoring and central control systems, environment monitoring has evolved from "monitoring without control" into smart, integrated systems. Simple data acquisition is inadequate for current circumstances, and systems must have database establishment and diagnostic capabilities in the back-end control center as well as realtime control capabilities in the front-end devices. Our engineers realise that as environmental changes are increasing, the importance of monitoring technology also needs to increase, and luckily we are at a point where a breakthrough in device integration can help simplify these systems and also make them more accurate, reliable and more affordable.