Esis Newsletter - February 2013
In this issue:
If you find this newsletter useful, please consider forwarding it to your colleagues. It's easy for them to subscribe as well, just by clicking the link to the right.

Note: Prices shown are subject to change without notice.
If you have any questions, please email us, or phone us on 02 9481 7420.
---
Our latest testimonial
"As part of my role with in the Adelaide City Council I manage the Central Control Irrigation System that requires the use of remote site contact through the use of modems,
I started using the ETM 9200 modem in Nov 2004 and have recently upgraded to the ETM9910-1 unit. Erik and Tony have been instrumental in the setting up of the communications for the irrigation system, I have no problem getting an answer to any tricky situation that I come across and the team's knowledge is exceptional. They deliver as promised and I can reach someone on the phone whenever I have an issue. I am not trained in communication and they assist me in keeping the system operating. I would not hesitate in recommending them to anyone who has limited or no knowledge in communication as these guys know their stuff."
– Adam Gunn, Adelaide City Council
Helping Customers Survive and Thrive

You probably won't be surprised to hear that our end user customers seem to be using Jacarta's ever-expanding product range in an ever- increasing range of applications!
Here is a summary of typical and not so typical Jacarta applications that helped various businesses and projects thrive and succeed.
Customer:Global Betting Website Company
Product: interSeptor & interSeptor Pro
Customer Description:
Company handles millions of pounds/euros worth of transactions every day. Any potential threats to its network infrastructure could be financially catastrophic.
Application:
Environmental monitoring and alerts for multiple new server
rooms
Requirements:
To monitor temperature and humidity spikes and email the onsite team so that they can take remedial action.
Solution:
We supplied interSeptors for the smaller server rooms and the iSPro 8, 16 and 24 units for their larger data centres, all with dual temperature/humidity sensors. The customer has come back to us on multiple occasions for more units and has now deployed systems at its Australian and Gibraltar locations also.
Click here for more info on interSeptor and interSeptor Pro
Customer: Research Laboratory
Product: iMeter + intelliAmps
Customer Description:
Organisation at the forefront of ground-breaking scientific and technological research
Application:
Power monitoring in data centre racks
Requirements:
Seriously concerned about data centre power usage, the Financial Director of the organisation wanted to be able to understand the power usage of multiple data centre racks. The previous method of an engineer carrying this out manually wasted a lot of manhours and the information had to be manually entered. To shut off systems to install Smart PDUs was not an option.
Solution:
We supplied an iMeter Master monitoring system with 4 x intelliAmp current probes that could be permanently clamped to the rack 32A input power cables. Power data can be logged by the iMeter and emailed to the Financial Director, saving the customer considerable time and money
Click here for more info on iMeter
Customer: Retail and Investment Bank
Product: iMeter + intelliAmps + iMS Software
Customer Description:
Global financial services provider with UK-based head office
Application:
Power monitoring of 50 data centre racks
Requirements:
The customer needed information about the amount of power
consumed by each data centre rack in a legacy data centre.
Solution:
An iMeter Master unit was supplied together with 6 iMeter slaves,100 intelliAmps and the Jacarta iMS software. The intelliAmps were clamped to the input power cables on the rack PDUs to provide an audit trail of each PDU and its power consumption. Reports from the iMS software provide the customer with indicative CO2 emission and kWH data. The customer was so impressed with the solution, that it has now adopted the same solution in a 90-rack, brand new data centre.
Click here for more info on iMeter and iMS
CyberVisuell updates Power Analyser kit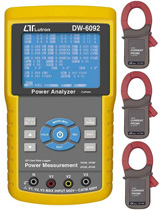 CyberVisuell's popular LDW-6092K power analyser/data logger kit has been updated with extra accessories.
This unit provides an extremely cost effective solution for monitoring and recording power usage and basic power quality. The LDW-6092K monitors single phase or 3-phase circuits, with the ability to log all power parameters to an SD memory card.
The power analyser kit not only includes 3 current clamps and 4 voltage probes, but also includes a comprehensive graphing software package called DPlot, along with a 2GB SD memory card.
The kit has now been enhanced with the addition of a USB to SD card reader, making it a complete solution for analysing the data on either desktop or notebook PC's. The pricing remains the same, so the CyberVisuell LDW-6092K now represents unbeatable value for money.
ADAM-4000 and -6000 Series get Hazardous Location certification
Advantech has announced its remote I/O modules – ADAM-4000 Series and ADAM-6000 Series have been UL certified with Class I, Division 2 Groups A, B, C, D approval, for use in hazardous locations.
Hazardous locations are typically gas, mining, oil or petrochemical industries where highly flammable substances may be produced, processed, stored, and transported to ensure the safety of the industrial facility. Certified for use in the oil and gas industries, the Advantech ADAM-4000 Series and ADAM-6000 Series are Class 1, Division 2 certified meaning that it won't cause explosions if gases, vapors and liquids are present.
The National Electrical Code (NEC) defines hazardous locations as the areas "where fire or explosion hazards may exist due to flammable gases or vapors, flammable liquids, combustible dust, or ignitable fibers." Hazardous locations are classified in three ways by the NEC: Type, Condition, and Nature. Class I locations are areas where flammable gases may be present in sufficient quantities to produce explosive or flammable mixtures. Division 2 is an environment where flammable gases, vapors, liquids, combustible dusts or ignitable fibers are not likely to exist under normal operating conditions.
The remote I/O modules, including repeaters, converters, and both RS-485-based and Ethernet-based remote data acquisition modules, provide ideal industrial automation, control, and measurement solutions for harsh environments and demanding applications. What's more, with a wide operating temperature range and multiple mounting methods, the ADAM series can be implemented across diverse applications, making the systems always connected and reliable.
µSmart Logger for smart weather stations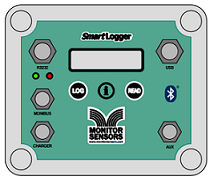 Monitor Sensors µSmart Loggers employ a bus wiring system in which the logger and all the sensors share a common communication cable.
Each sensor is identified by an address, a single number or letter.This permits the use of up to 62 alphanumeric sensors (numbers 0-9, A-Z, and a-z). If more than 62 sensors are required a logger option register can be set that allows 200 sensors to be installed. The address of a sensor must be unique and is displayed by the logger when displaying sensor data.
Every sensor is assigned a schedule identified by a single code letter. The logger uses the schedule to decide when to collect and store data from a sensor. For example schedule m will log sensor data every hour. Whenever a new sensor is added to the system, the logger will automatically assign a schedule,usually m. The schedule can be different for each sensor and may be changed at any time to a schedule more suited to the user's purpose.
The logged data is easily downloaded from the logger through a simple text menu system. The logger can communicate via RS232, USB or optionally Bluetooth. Remote communication is possible over satellite, mobile phone network, local radio link or wireless LAN by connecting the logger to external equipment.The downloaded data is formatted to allow easy analysis in a spreadsheet or database.
Features
16 channel – 500,000 readings
Independent sensor schedules – 1 per second to 1 per day
Virtual sensors – cattle heat stress, accumulated heat stress, evopotranspiration, dew point, supply & bus voltage

USB

, RS232, Bluetooth,

GPS

interface
Web reporter interface to Next G and satellite internet
Internal 6 volt 7.2Ah battery
Easy configuration – plug & go
1µS event synchronisation with Garmin

GPS
Z710 - New fully rugged Android tablet
World's first fully rugged tablet with glove-enabled capacitive touchscreen.
The new fully rugged tablet Z710 provides key advantages to operators in vertical markets including utilities, logistics and automobile manufacturing, to name just a few. For field services, this rugged tablet from Getac raises the bar for operation in all types of environmental conditions, together with significant improvements in screen durability and sensitivity. LumiBond technology integrates Gorilla Glass, capacitive touch sensor and LED panel through OCR (Optical Clear Resin), which provides unprecedented touch sensitivity even with gloves on!
And that's not all: Getac's unique design allows the Z710's screen to be controlled with a stylus, finger or gloved hand for quick data/signature input or punched-in commands. The tablet incorporates Getac's industry-leading data-capture capabilities with barcode reader, camera, and key data connectors that you won't find on similar devices on the market.
The new Getac tablet sets new standards for toughness, connectivity, adaptability and longer operation, all of which mean greater productivity for field operations or on factory floors.
Features
7'' LumiBond™ Display with Getac QuadraClear™ Sunlight Readable Technology and Glove-enabled Capacitive Touchscreen
6 Feet Drop and IP65 Certified
Optional 1D/2D Imager Barcode Reader and

RFID

Optional 3.5G

WWAN

(

HSPA

+/UMTS/EDGE/GPRS/GSM)
SiRFstarIV™ High Sensitivity

GPS
Visidec Focus notebook stand
Reduce the risk of work-related strain and injury when using your notebook with the Visidec Focus VF-AT-NP.
This elegant polished aluminium notebook desk mount is designed to improve the ergonomics of notebooks.
Used by raising the screen, angling it for an optimal viewing position, and positioned in and out for the ideal focal length. The non-slip tray supports notebooks of up to 18.4", with multiple adjustment features to give the user the ideal viewing angle, distance from screen, height and rotation. The streamlined design adds style to any desktop, with advanced cable management for a safe and professional finish.
Product key features:
Non-slip ventilated notebook tray supports notebooks up to 18.4"
Offers a wide range of movement via three pivot points
Height adjustment range: 340mm (13.5")
Allows 360 rotation around pole
Adjustable tray angle from 10° to 35°
Adjustable pan: +/-90°
Bolt through and desk clamp mounting options included
Internal cable management
Comes with all mounting hardware
Designed to be used in conjunction with a separate keyboard and mouse
PCI Express mini card supports CAN 2.0B
Commell has released MPX-2515 CAN 2.0B USB card, the first CAN bus product in its CAN products series.
Controller Area Network (CAN) has been widely used in different field since the first CAN controller was launched in 1987, which was targeted to automobiles. Today, more and more fields industrial, medical, automation, and more have adopted CAN bus to communicate among devices.
This card connects to CAN bus through USB interface.This card is composed of Cypress CY8C24794, Microchip MCP2515, and Microchip MCP2551 controllers ,features USB 2.0 full speed and supports CAN 2.0B standard and extended identifiers. Commell CAN Protocol (CCP) is implemented in the MPX-2515 firmware to do service command requests from USB host. This CCP is designed to make fully use of CAN functionalities. I
The MPX-2515 card is manufactured in Mini-PCIe card form factor in order to perfectly fit to embedded systems. Optional cables provide users to connect to USB Type A receptacle.
Commell is scheduled to release more CAN products including multiple port CAN USB cards and multiple port CAN PCI-e cards.