Esis Newsletter - July 2013
In this issue:
If you find this newsletter useful, please consider forwarding it to your colleagues. It's easy for them to subscribe as well, just by clicking the link to the right.

Note: Prices shown are subject to change without notice.
If you have any questions, please email us, or phone us on 02 9481 7420.
---
Convert your workspace to Sit-Stand and improve your health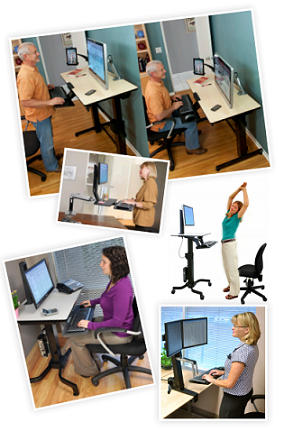 Ergotron Essentials for a Less Sedentary You!
Are you sitting long hours each day? We know a sedentary lifestyle is unhealthy. But do you realize how serious sitting disease really is?
We sit way too much. And it's no wonder, between TVs, computers and automobiles, we virtually never have to leave our seats. You've probably felt the discomfort of sitting too much, that wrenching pain or stiffness in your neck, back, hips or legs. But do you know what's happening, deep down in your body, when you sit? Your metabolic system starts to shut down, blood flow is restricted and your blood sugar and good cholesterol levels become compromised. Researchers call it "Sitting Disease", suggesting that it can lead to obesity, diabetes, heart disease, some cancers, and earlier mortality rates.
So how do you reduce sitting time without disrupting your flow? Especially if you lack the time or resources to join a gym, or work in a job that leaves you chained to a chair?
It can start by simply changing the relationship you have with that chair.
The act of switching between a seated and standing position throughout your day has significant health benefits, ramping up metabolic rates, caloric burn and blood flow, while stimulating focus, energy and productivity. Keeping you engaged with what you're doing while defending against the potential for discomfort or disease. Good health is more than finding time to be physically active each
week. It's about standing more and sitting less, making those sedentary pieces of your pie smaller. It is also about taking proactive measures with affordable and adjustable tools to mitigate your risks. Throughout the day. every day
Modify your space for a sit-stand lifestyle
In your realm of work and play, identify times spent at your TV or computer display in your overall "sitting too much" pie. That's a good place to start.Standing all day may not be practical, which is why a sit-stand device is ideal—feel free to sit and then get up and stretch every half hour, stand while on the phone, or stand during the exciting parts of a movie.
"Implementing a sit-stand workstation is a major paradigm shift in thinking," according to David Dunstan, PhD, Baker IDI Heart and Diabetes Institute in Australia
A standing desk, movable cart or interactive TV wall mount can make those times more active. The Ergotron WorkFit range helps us do just that, with a mission to improve the human experience when using computers, monitors, large screens and notebooks, with high-quality mounting solutions.
How people are feeling after standing more…
WorkFit users from across the globe after being given the option to sit and stand while working reported the following observations:
25% increase standing time to at least 60 minutes per day
60% report more Energy
62% report Improved Comfort
83% report Feeling Better
84% report Feeling Less Fatigue
Who would have thought such a simple thing would make such a huge difference?
Be a sit-stand champion!!
Check out more interesting facts about the health benefits of standing at www.juststand.org .
Esis supplies Ergotron's complete WorkFit family and specialises in finding the right solution for each client. Call ESIS today to make this important change to your lifestyle and health!
All New PowerScout 24 - High Performance Instrument for Multi-Circuit Monitoring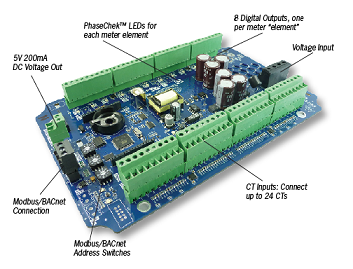 The PowerScout 24 is an all-new multi-channel power meter from DENT Instruments which replaces the PowerScout 18.
The modular design allows it to be configured for monitoring multiple electrical circuits (sharing a common voltage source). It can be supplied with virtually any combination of DENT's internally-shunted split core or RoCoil CTs. There are virtually no restrictions in "mixing & matching" CTs on the PowerScout 24.
Similar to the PowerScout 3 Plus, the PowerScout 24 allows for communication over either BACnet or Modbus protocol via an RS-485 serial connection.
Another feature are the 8 Digital Outputs included on the meter—one per meter "element." One can use these digital outputs to send kWh or other pulses to a pulse counting device, such as an RTU or a 5 VDC, 200mA power, to power other devices, such as a radio or gateway device.
Additionally, new ViewPoint 3.0 software is being released in conjunction with the new PowerScout 24 and has been extensively updated. ViewPoint 3.0 allows for flexible configuration of the meter in the field.
Installing the PowerScout 24 is simple done through a single voltage connection via color-coded voltage leads and clearly labeled CTs. DENT's patented PhaseChek™ circuitry also includes a three LED indicator display that confirms proper CT-to-phase installation. The PowerScout automatically adjusts for CT orientation, greatly reducing set-up time and all but eliminating installation errors.
It is also compatible with either split-core current transformers or flexible Rogowski coils (for large loads or large cables and busbars) to monitor current on each phase and can be available with or without an enclosure.
Key Features:
Over 50 measured parameters for energy measurement, monitoring and diagnostics. Monitors voltage, current, power, energy, and many other electrical parameters on single and three-phase systems.
24 channels for multi-circuit monitoring
Single or 3-phase energy and power meter for sub-metering applications.
Mix-and-match a full range of Split-Core or RoCoil™ Rogowski-style current transformers.
Patented PhaseChek™

LED

indicators ensure correct CT orientation during installation.
Line-Powered; 60-600V Phase-Phase Power Supply (Use on 120/240V, 208/120V, 480/277V, or 580/335V, 380/220 volt services; 50 or 60 Hz.
Equipped with industry-standard Modbus and

BAC

net Communications
Data updates occur every 1 second
Please contact us for more information.
A User's Story:Surviving the Rigours of the Road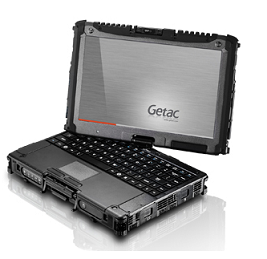 On site data capture using Getac rugged V200 convertible laptop
Vegetation may not be the first thing you think of when planning a city's infrastructure but for every road, railway line or power pole, there are nearby trees and bushes that need to be kept in check.Excessive growth in the wrong place can cause damage to buildings. Roots need to be kept clear of water and sewage pipes. No matter how difficult the location, branches need to be trimmed to avoid intrusion on power lines. Understanding how to manage such vegetation is a specialized job, one that requires expertise, project management skills, high tech equipment, and a physically able workforce.
This is the world of Active Tree Services (ATS),
Australia's largest vegetation management company. For more than 30 years ATS has been working with government bodies, utilities and businesses, helping to manage the balance of infrastructure and nature. The company employs more than 450 staff and maintains a substantial fleet of specialist equipment.
Tentative steps
Six years ago, in an effort to obtain more accurate site information for staff and clients, ATS management decided to improve the company's field data capture. At the time ATS inspectors relied on manual methods to log site information and to prepare briefs for maintenance crews. While the process worked it limited the quantity and quality of information that could be passed on.
To solve the problem the ATS' IT team developed a mobile data collection solution that would enable inspectors to record a greater variety of site information including asset conditions, the state of vegetation, maintenance instructions and site images. ATS Chief Information Officer, Justin Sheppherd explains, "It was a way of digitally collecting information about vegetation encroachments so that it became more immediate."
The system was trialed in Western Australian where inspectors were provided with personal digital assistants (PDAs). It was an immediate success but the trial highlighted some important considerations. The conditions that inspectors worked in were often harsh. The PDAs were required to operate in environments that ranged from city parks to dusty remote communities where temperatures soared. Standard computer equipment was not up to the task and in future, it was decided that users should be equipped with rugged devices designed to deal with extreme environments.
Next, mobile data collection was introduced to staff in South Australia. More lessons were learned and the system was again tweaked before being rolled out in Queensland. With each new roll out the system evolved. Touch screens were introduced, software was streamlined and a GIS software package was incorporated bringing valuable spatial data into the mix. Mobility became an accepted part of the organisation's operations.
A question of hardware
Twelve months ago a number of the company's oldest mobile devices were due for replacement. Sheppherd was introduced to the Getac range of convertible laptop computers. Designed for extreme environments and to withstand physical abuse, the Intel i7 powered laptops had the grunt that Sheppherd was after for his graphic-intensive applications. "We tested other devices that struggled with the GIS applications. The software requires quite a profound hardware platform," he acknowledges.
The Getac V200 also offered versatility – converting to tablet computers with a simple twist of the display.
To confirm whether the Getac V200 rugged computers were fit for purpose, Sheppherd accepted the offer of an evaluation unit. He sent the Getac V200 out with a road crew and reports, "They loved it. It was very easy to use and it had a very bright,readable screen which was crucial for making it easy to read in sunlight."
Sheppherd also liked the end-to-end service proposed by the distributor. "They could supply mounting arms, docks and antennas. These are pretty standard for this kind of gear but their offering focused on ruggedisation. Things are going to get broken in this environment so everything we choose has to be safe to be fitted to a vehicle and as resilient as possible." Sheppherd notes.
A standard five year warranty for each laptop and the distributor's offer to provide a "hot swap" service by holding spare stock that could immediately be substituted for any damaged or broken units created a compelling business and technical case. By the end of the evaluation, the Getac V200 convertible laptops were adopted as ATS' standard mobile devices.
Inspectors note instructions for crews and as each job is completed, the crews use their Getac V200 fully rugged convertible computer to record the work they have done. A 3G connection uploads the data to ATS' private cloud. If no connection is available the software continues to store data to the cache, synchronizing with the cloud once connectivity is returned.
The insistence on Getac V200 rugged computers has paid off. Despite the conditions on trucks and in the field, Sheppherd says, "We've had minor faults but a Getac computer failing in the field? It just hasn't happened."
The aim of better client asset information and reporting is also being achieved. "We're discovering assets such as power poles that energy company clients didn't realize existed. It's creating a lot of transparency in how we service a contract. The level of detail we can provide is much better. Clients can visualize the problems on the network and understand where sites need to be visited regularly to be maintained. There's so much more information coming back," Sheppherd concludes.
Challenge
Increase the quality of data collection during field inspections.
Improve the flow of information to maintenance teams while on the road.
Solution
On site data capture using Getac rugged V200 convertible laptops/tablets
Benefit
Getac's fully rugged convertible notebook V200 allows:
More accurate information captured at the time of inspection.
Maintenance crews receive comprehensive mapping, visual and text instructions.
proved client reporting due to thorough and graphic information.
Esis specialises in Getac fully rugged PC's. Please contact us now to discuss your requirements.
Ready to Go, All-in-one Mini Fanless PC

The smarter choice for embedded applications!
ARK-1120LX, all-in-one, fanless intelligent system is an easier and smarter choice for embedded applications that contains everything you need – 2GB integrated DDR3 memory, 2.5" 320GB HDD, power adaptor, and preloaded with Windows XP Embedded operating system and SUSIAccess Pro, a suite of software for remote device management with Acronis data protection and McAfee security. It's easy to use, for manageability, reliability and security. Just plug and play, it's ready to go!
Your Benefits
100% Compatibility
Worry-Free Reliability
Just Plug & Play
Reduce Time to Solution
Intelligence Built-in
Low Power Consumption
Total power consumption < 10W
Low-profile with higher than average speed Intel Atom N455 processor
Intelligence Built-in
Remote Monitoring
Security Protection
Backup and Recovery
Multiple Mounting Options
Wall mount /

VESA

mount bracket
Easy for installation and system integration
IP40 Protection Classification
Fanless design with reliable, extended

MTBF

Protection against ingress of solid particles with a diameter greater than 1mm
Specifications
Intel® Atom™ N455 processor 1.66GHz
2

COM

, 4

USB

, 1GbE
2G DDR3-1333 memory built-in
320G

SATA

HDD

built-in
Windows XP embedded preloaded

SUSIA

ccess Pro built-in
36W power adapter
The ARK-1120LX will normally be stocked in Australia from late August 2013 onwards (subject to normal stock movements). Please contact us for a quote.
Hot Product: Getac E110 - a Revolution in Efficiency in the Field
The E110 blazes a new trail in efficiency for your teams operating in the field.
Getac goes beyond off-the-shelf products to adapt and modify the products to deliver user-specific solutions.
The new E110 rugged tablet delivers a large 10.1" HD (1366×768), sunlight readable screen. Uninterrupted operation also helps the Getac E110 raise the bar for rugged tablets.The E110 extends operating time with Getac's LifeSupport™ battery swappable technology that enables batteries to be changed without shutting down the system. Getac's unique Power Management Technology also allows many of the functions of the E110 to be monitored and adjusted to optimize power consumption.
Professionals operating out in the field need to collect data quickly and Getac has designed new features into the E110 to make the job easier and more productive. An internal RFID reader scans in key data quickly and easily. The E110 also has Bluetooth 4.0, allowing communications with other Bluetooth devices over a wider area. The 3-megapixel auto-focus camera on the E110 captures important visual data that is also enhanced with Getac's G-Camera software. And an optional second smart card reader allows professionals such as medical personnel to save crucial time by simultaneously verifying their identity while they read in smart card data from accident victims.
Getac's E110 also offers key in-vehicle solutions when your professionals are on the road. The pass-through connector and external frequency antenna enables 3G telecommunications for seamless connection to a remote database and GPS to plan delivery routes. The SiRFstarIVTM;option enhances GPS accuracy while dramatically reducing power consumption. Providing real-time data capture and transmission. An essential productivity tool for utilities personnel.
The E110 is also the best value proposition for transport and logistics personnel out in the field who need to continuously update their information on driving routes and delivery data.
With years of experience in rugged computing, Getac offers excellent mobility with the lightweight design of the E110, making it easy to hold and use, while the docking connector makes in-vehicle operation simple and straightforward. The E110's QuadraClear™ screen is readable in bright sunlight and the system connects seamlessly to communications networks via WiFi, Bluetooth and 3G (WWAN). The data capture of RFID capability on the E110 lets field staff input critical data immediately and helps eliminate the risk of human error.
Public safety professionals can count on the Getac E110 too for high-speed communications and access to data even under the most adverse conditions. With a multi-touch screen that even works with gloved hands and function keys that can be set as shortcuts for repetitive operations.
Features
Intel® Atom™ Processor N2800
10.1" Getac QuadraClear™ Sunlight Readable

TFT

LCD

HD Display (1366 × 768)
LifeSupport™ Battery Swappable Technology
e4 Mark Certified
Getac 5 Year Limited Warranty
Contact ESIS – the Getac experts – for a quote now!
Unveiling the functionality of a tiny Atom N2600 Board
Where the smallest possible size matters!!!
COM stands for Computer-On-Module and is a type of highly integrated PC commonly used in various embedded systems projects. Unlike regular PC motherboards with their numerous wires and cables and connectors, COM boards simply plug into a project-specific carrier board. In essence, by using COM modules, systems integrators can treat entire computers like mere components and concentrate on the specific aspects of their project instead, saving cost and development time.
COM evolved overtime,with COM-Express the current implementation.COM modules also come in various sizes, those being Mini (55 × 84 mm), Compact (95 × 95 mm), Basic (95 × 125 mm), and Extended (110 × 155 mm). In addition to the different sizes, there are also different pin-outs on either a single or a double connector. The type of pin-out defines the type and number of interfaces available. The Advantech SOM-7565 is a COM Express Mini Module and uses what is referred to as a Type 10 AB connector.
What is the Advantech SOM-7565 for?
What you get with a COM Express Mini module is an entire x86-based computer on a tiny board measuring just 3.3 × 2.17 inches (84 × 55 mm).The COM module itself will only be part of a package that'll also include the project-specific carrier board, a heat spreader, and whatever I/O ports and connectors are required. Still, the exceedingly compact size of the Mini module allows for very compact and even for handheld applications.
In terms of performance and features, most current COM Express Mini modules use Intel Atom processors. And as for now, Mini modules are either Type 1 or Type 10 single connector pin-outs.
Type 1 provides up to 6 PCI Express lanes, 4 SATA ports, LAN, 8 USB 2.0, and VGA and LVDS as display interfaces.
Type 10 is very similar, but uses some of the PCIe and SATA pins, the VGA and TV-out pins, as well as the second LVDS channels in favor of SDVO (Serial Digital Video Out) via a DDI display interface.
So what that means in practice is that Type 10 pin-out boards such as the Advantech SOM-7565 can support dual displays, one through LVDS, and a second through a shared port. In the SOM-7565, that shared port supports HDMI, DVI, and DisplayPort.
Intel Atom N2600 processor
As far as performance goes, the small size and intended purpose of COM Express Mini modules go hand-in-hand with the targeted performance and low TDP of Intel Atom processors. And for the SOM-7565, Advantech selected the Atom N2600, which has a lot going for itself as, in our opinion, one of the best overall Atom processors.
Initially conceived as sort of a third generation of "netbook" processor, the N2600 remedied a lot of the performance issues of earlier Atom chip designs. It's the first Atom family to use 32nm process technology instead of the older 45nm, making for smaller, more efficient packages. All members of that "Cedarview" processor family are dual-core systems whereas before only desktop-oriented versions had two cores. Graphics performance benefits from a different design and much faster clock speed, resulting in Intel claims of 2X graphics performance compared to the second generation Atoms. And integrated hardware-accelerated video decoding finally enabled smooth full HD (up to 1080p) video playback.
So the N2600 is a competent dual-core design with twice the L2 cache, twice the graphics clock speed, faster DDR3 memory, and a maximum thermal design power of just 3.5 watts, considerably less than the 5.5 watts of the predecessor Atom N450. The complementing Intel NM10 Express chipset is miserly as well, with a TDP of just 2.1 watts, making for a combined CPU/chipset maximum draw of just 5.6 watts. In its N2600 promo materials, Intel predicted "up to 10 hours of battery life on portable devices."
Even the low combined maximum of 5.6 watts needs to be dissipated quickly and efficiently, and especially so in embedded designs where utmost reliability is of primary concern. The SOM-7565 doesn't need a fan, but our review unit did come with a substantial 2-part heat spreader/cooling fin block to address any thermal issues.
Computer modules like the Advantech SOM-7565 address very different markets but there are also a lot of commonalities: embedded systems components are industrial-grade, reliable, and hugely configurable, just like the pre-built mobile rugged systems we primarily test and review. The very concept of separating the electronic engine at the core from the exterior functionality and connectivity is quite attractive, and something that designers of rugged tablets and notebooks certainly wouldn't mind having, given Intel's rapid-fire introduction of new chip generations and technologies.
As is, the SOM-7565 COM Express Mini module is just one of Advantech's almost endless roster of boards and components in numerous form factors. Each addresses slightly different issues and contains different technologies, and picking the right one is one of the challenges for embedded systems integrators.
Find out how Motion Tablet PCs are changing the way people do business, work and play

Keeping the Beat Steady with Mobile Technology!!!
Motion Computing empowers businesses worldwide with technology solutions designed to optimize the performance of mobile workers. Building on a foundation of award-winning technical expertise and decades of industry experience, the Motion team makes it their business to understand your business.
Motion Computing's Rugged and Semi-Rugged Tablet PC's are well designed, ruggedised for real world use and their performance and versatility represents outstanding value for money.
Through industry-leading rugged tablet PCs, tailored accessories and services – Motion delivers mobile technology solutions customized to business workflows. Purposely built for vertical markets including field service, healthcare, utilities, construction, retail, public safety and first responders – Motion's suite of mobile technology solutions improves worker productivity, data accuracy and security, while enabling real-time decision making at the point-of-service. Customers report lower operational expenses, increased efficiency and enhanced customer service.
Field Service Solutions
Greater access to data at the point of service
Eliminate need to re-key data by automating forms
Enables constant real-time communications
Higher productivity levels when mobile
Simplify results tracking and reporting
Access reference materials anywhere
Healthcare Solutions
Improved Clinician productivity
Decreased Data input latency
Improved point of care documentation
Enables Optimized

EMR

Process
Enhanced Clinician Satisfaction
Improved Patient Satisfaction
Offers True Mobile Pint of Care (

MPOC

) Solution
Retail Solutions
Reduced Transaction times
Increased Productivity
Optimized Inventory Management
Reduced Abandon Rates
Enhanced Customer Experience
Increased Mobile Productivity
Construction Solutions
Real-time decision making on the job site
Mark-up plans and drawings anywhere
Monitor project progress and job safety
Monitor construction materials continuously
Streamline work/punch list
Avoid duplicate data input
For more information please contact us.