ADLINK Technology, a global provider of leading-edge computing solutions and NVIDIA® Quadro® Embedded Partner, has introduced the latest additions to its new series of embedded graphics products for edge computing applications, the EGX-MXM-P1000 and EGX-MXM-P2000 Mobile PCI Express Modules (MXMs). ADLINK's MXM modules and PCI Express Graphics (PEG) cards offer improved system responsiveness, extended product availability, power efficiency, and system robustness, thus significantly improving speed and efficiency for industrial imaging processing, compute acceleration, and artificial intelligence (AI) computation required by edge computing applications in healthcare, aerospace and defence, manufacturing, transportation, and maritime sectors.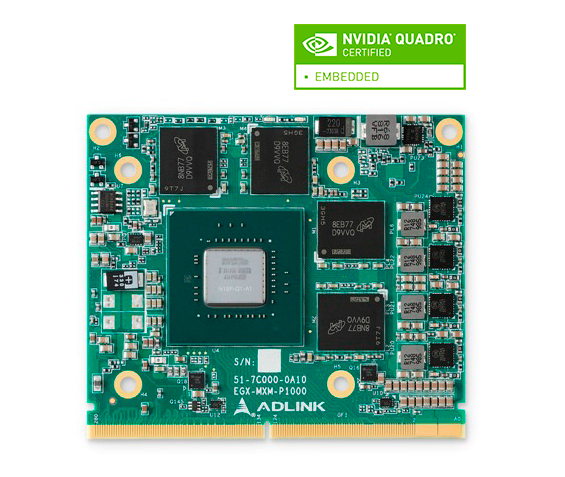 The EGX-MXM-P1000 and EGX-MXM-P2000 feature advanced NVIDIA Quadro GPUs with NVIDIA Pascal™ Architecture technology in MXM 3.1 Type-A form factor. The EGX-MXM-P1000 has 512 NVIDIA® CUDA® cores and a peak single-precision floating-point performance of 1.8 TFLOPS, and the EGX-MXM-P2000 has 768 NVIDIA CUDA cores and a peak single-precision floating-point performance of 2.3 TFLOPS. Both have 4GB of GDDR5 memory and support NVIDIA GPUDirect™ RDMA which helps increase data throughput by up to 80% and consequently system responsiveness by up to 60%*. Additionally, 4 FHD display outputs and an extended operating temperature range of -40°C to 85°C are supported. These embedded graphics products are suitable for mission-critical harsh-environment edge computing
applications
with size, weight, and power (SWaP) and network connectivity constraints.
"ADLINK is taking edge computing to the next level with GPU-accelerated heterogeneous computing platforms. As an NVIDIA Quadro Embedded Partner with extensive experience in embedded and edge applications, ADLINK is well-suited to bringing NVIDIA Quadro GPUs with custom firmware and longevity support to the edge, creating unlimited opportunities for ADLINK's partners," said Edgar Chen, managing director of Embedded Platforms & Modules Business Unit at ADLINK. "ADLINK sees applications such as clinical diagnostic imaging devices,
rugged military laptops
, imaging radar for aerospace and defence, and gaming slot machines as presenting the considerable potential to benefit from embedded graphics add-on cards and modules."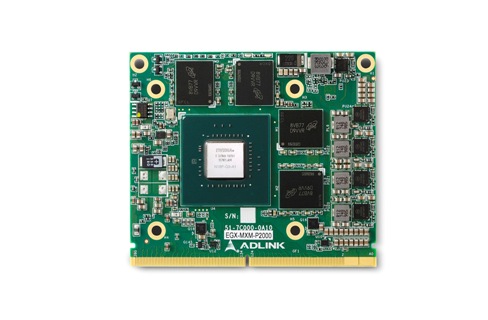 ADLINK offers a comprehensive lineup of embedded graphics products based on NVIDIA Quadro Embedded GPUs, comprising MXMs and PEG cards. The MXMs feature high performance-per-watt and extended operating temperature options, ideally suited to SWaP-constrained applications in demanding environments. The PEG cards maximize computing power and plug-and-play convenience to significantly boost the performance of computing-intensive performance-critical applications. To address the needs of graphics processing and GPU-accelerated computing, long-term product availability and technical support are provided for edge computing and AI applications.
These MXM graphics cards can be built into ADLINK's latest series of Fanless Industrial PC's. For example the MVP-5100-MXM Series sports a 9th Gen Intel Core i7/i5/i3 processor, and offers a choice of MXM graphics cards using NVidia Quadro chipsets.
ADLINK's top quality range of embedded PC solutions are now available in Australia through ESIS Pty Ltd.
ESIS distributes a wide range of embedded PC and graphics products for edge computing applications, and is the leading supplier of industrial electronic equipment in the Australian market since 1971. Choose from a range of diverse products to best suit your requirements. Contact us right away to discuss your needs.
Article Courtesy of ADLINK