Alarm Systems & Devices with Alarms

for rain, wind, flood, CO, CO2, etc.
On this page:
Flash flooding a problem?
Install an early warning system so you can prevent damage!
The recent spate of storms and flash floods across eastern Australia has highlighted just how vulnerable we are to these increasingly common weather events. Many businesses have lost thousands of dollars worth of stock and equipment, not to mention the loss of business income and damage to premises.
Have you thought what would happen if a large storm causes flash flooding at your business premises at 3am when you are sound asleep at home? You wouldn't even know about it, and nobody would be on site to take protective measures. The damage bill could be huge.
Esis Heavy Rainfall Warning System
The Esis Heavy Rainfall Warning System provides 24 hour monitoring of rainfall levels at your premises. This system is constantly measuring the rainfall level in mm, and it will trigger an alarm if there is more than a preset amount of rainfall in a given period of time. Alarms are sent to you immediately via SMS or telephone, to alert you when there is a high rainfall event occurring.
The rain alarm can be adjusted to trigger on a certain amount of rainfall in a given period, for example 60mm of rain falling within 2 hours. You can then have it configured to send SMS messages to multiple mobile phone numbers, or if configured with a landline dialer, it can dial up to 16 phone numbers in sequence, playing back a pre-recorded message to each person until someone acknowledges the alert.
The system also includes a surge protection unit and a battery backup power supply, so even if the storm results in a power failure, it will still be able send out the warning messages. A key lock prevents unauthorised changes to the settings.
For more details and pricing please contact us.
The Esis Heavy Rainfall Warning System includes the following:
RS2 Rainfall Sentry Pump Controller
The RS2 Rainfall Sentry Pump Controller monitors the rainfall and operates an alarm relay when a programmable amount of rain falls within a programmable period of time. The relay is released after a second programmable period of time has elapsed. This second period of time may be extended, if desired, by further rainfall. The operator may also program the amount of this additional rain, and the extended time period. A SPDT 1 Amp relay provides voltage free contacts to operate external equipment. An external heavy duty relay or contactor is required to control a pump motor.
Features
Includes RG2-1 tipping bucket rain gauge, controller unit and 12V mains adaptor
Adjustable rainfall rates & delays
Low power consumption
1A NO/NC voltage free contacts
Optional flashing beacon and/or piezo alarm
Powder coated aluminium case

Specifications
Measurement range: 0.2 … 720 mm per hour
Accuracy: ± 2%, ± 1 tip per rainfall event
Operational range: -20°C to +60°C 0% to 100%RH
Output options: Monibus serial data ASCII format, and 1 Amp SPDT voltage free contacts
Power Supply: 12-28 Vdc unregulated
Dimensions: 150 W x 300 L x 80 H mm
Mounting: 4 x 6 mm Ø holes in flange
Cable Details: Standard product has 4 m of cable to the rain gauge - other cable lengths may be ordered
Warranty: 12 months
Autodialer and SMS sending
Auto-Dialler with custom voice message, and up to 16 phone numbers,
and/or SMS Modem with custom text messages and up to 5 mobile numbers.
Battery Backup Power Supply, Surge Protection Unit, covering mains power
and telephone lines
Wind Alarm Station
The µSMART Wind Alarm monitors the wind speed and optionally, the wind direction and provides
visible and audible alarms when the readings are out of the user set limits.
The alarm settings include…
• The wind speed threshold and whether the alarm should sound above or below this value.
• The centre direction of the alarm arc.
• The total alarm arc width.
• The time period for which the wind conditions must persist before the alarm is triggered.
• The time period for which the wind conditions must desist before the alarm resets.
This uses the WA1 Alarm Control Unit with LCD display described above, and also requires wind sensors.
Please contact Esis with your requirements.
A Wind Characteristics Station is also available which provides real time information on wind speed, wind gusts, wind run and wind direction with sine & cosine for sigma theta calc (std dev).
Jump to page with Wind Characteristics Station (opens in new tab or window)
WA1 Alarm Control Unit with LCD display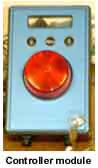 WA1 Alarm Control Unit with LCD display (backlit) and push button menu system.
Connect any two sensors, such as wind speed and wind direction - useful on building sites, or temperature & humidity.
If over/under (or both) the preset points it gives either
an audible alarm (beep-beep-beep) or bright Xenon lampflashes (factory setting, specify when ordering).
There is an additional cost if both audible AND visible alarms are required.
Can set time delay before alarm proceeds.
The two channel LCD readout shows an asterisk next to the channel in an alarm condition.
Mount where personnel can see it. Includes mains adaptor. 9-28VDC.
Optionally, can use solar panel and internal battery.
Picture: click here Right side Left side (open in new tabs or windows)
These pictures show a unit which has audible alarm (no Xenon lamp), and current loop output terminals for the two sensors (not shown).
Dimensions: Case width 117mm, overall width 140mm, height 216mm including mounting flanges,
depth of case 57mm (allow extra for items mounted on the front).

WA1 Alarm Control Unit with LCD display

Options:
WR1 Relay Output unit, internal, with 240VAC 10A contacts, 2 relays possible,
one relay could be associated with both inputs, or
two relays could each be associated with a particular input. For each relay, add $POA (factory option)
AL1 Alarm Light, 12V rotating beacon for outdoor use
AL2 Alarm Light & Siren, Xenon flashing beacon, and multitone siren
AL3 Alarm Light, high intensity Xenon flashing light for indoor use in large space
Environmental Sensors
Monitor Sensors' µSmart environmental sensors have alarm outputs.
They are designed with reliability, robustness, low power requirements and accuracy with added sophistication as follows.
They can be used with a weather station or separately. Each µSmart sensor incorporates a microprocessor providing linearised and standardised outputs, 16 bit resolution (1 part in 65,000) and output signals: analog, ASCII data output/input via serial interface, pulse, control & alarm outputs.
Jump to Monitor Environmental Sensor page (opens in new tab or window).
LSS2: Lightning Strike Station with Data Logger
Data sheet (pdf file, opens in new tab or window)
LA1: Lightning Strike Alarm Unit
Please enquire
Gas Alarms - CO CO
2
GMT220 Series Industrial Carbon Dioxide CO2 Transmitter
with alarms

Vaisala's GMT220 series are the first CARBOCAP® transmitters available for a wide range of industrial CO2 applications including greenhouses, fruit storage, safety alerts and demand-controlled ventilation in mushroom farms, livestock husbandry and parking garages.
The GMT220 series transmitters are designed to measure CO2 in harsh and humid environments.
The housing is dust and water proof to IP65/NEMA4. The materials have been chosen for extended corrosion resistance.
More CO2 alarm information
Gas Safety - Personal Safety
More information on the following Testo items
Testo 315-1, etc, CO level measuring instrument

Reliable CO warning
• Three alarm thresholds are freely adjustable
• Audible and visual alarm


Testo 316 gas leak detection - flexible probe

Gas pipelines can leak, which means there is the risk of explosion!
The Testo 316 detects even the smallest leaks. Sensor is built in.
• Flexible measurement probe for hard to reach locations
• Optical and audible alarms signal when limits are exceeded

Testo 316-4 Leakage Detector for Refrigerants

• Very long sensor life
• Optical and audible alarm
Dial-out and ethernet email alarm notification
IG6000 - Industrial Modem
with Industrial Strength Reliability, with alarms
The IG6000 has voice message storage in Flash memory,
so it can dial out and deliver voice messages in response to control line inputs.
Designed for unattended sites More information on IG6000

ADAM-4502 Ethernet-enabled Communication Controller
with 2-ch AI/O and 4-ch DI/O & email alarm function
With its modular design, ADAM-4502 has all the same functionality as ADAM-4501, but provides different I/O options.
The ADAM-4502 provides one Ethernet interface and 4 serial ports module, but also features 1 analog input, 1 analog output, 2 digital inputs and 2 digital outputs.
This versatility allows users to implement rich interfaces for different applications.

10/100Base-T(X) Ethernet interface
Email alarm function
ADAM-4500 Series information
SMS Alarm from analog or digital input
ETM9570, ETM9910, etc More information on our GSM Modem page
Other items with alarms
DataNet Wireless Data Loggers
High-End Wireless Data Acquisition System with alarms.
The DataNet is a 16-bit data logging system, with 4 inputs for direct measurement and recording of PT-100, thermocouple, voltage, 4-20 mA, frequency and pulse.
Data transmission from units to the central computer utilizes the brand new ZigBee wireless telemetry protocol.
More information on DataNet

Data Loggers - various, often have LED or audible alarm indicators
IR Temperature Measurement - Non-Contact - Infrared
Some have alarms More information on IR thermometers
ADAM 4000 Series Data Acquisition & Control Modules
Analog & digital inputs, some have alarm outputs ADAM-4000 information
Eutech PCD 650 water quality instrument
HI-Lo limit alarm for easy quality control More information
M17090 USB Humidity & Temperature Sensor

Alarm sound, email or USB Switch, SMS via the command line interface
USB Sensors