Industrial Ethernet Switches
---
Prices do not include GST and may change without notice.
---
Further down this page: Modbus over Ethernet
Article explaining clearly what the features and differences are on
various kinds of Ethernet switches (managed and unmanaged etc).
Various kinds of Ethernet switches (opens new tab or window)
Data on Advantech Industrial Ethernet Switches (Advantech 2009 Catalog, opens new tab or window)
Ch 6 includes: EKI-4654R EKI-7758F EKI-7656C EKI-7659C EKI-7657C EKI-7654C
EKI-7554SI/MI EKI-7559SI/MI EKI-2741F/SX/LX EKI-2541M/S
EKI-7626C EKI-7629C EKI-2725/2728 EKI-2525/2528 EKI-2525M EKI-2526M/S
EKI-2525P EKI-2525PA EKI-2526PI EKI-2701PSI
EKI-6311G

Advantech 2007 Brochure on Industrial Communication Solutions (.pdf, 19 pages, opens new tab or window)
Includes: EKI-7656 -7758 -7659 -7626 -7629 -2741 -2526 -2725 -2525 -2528 -2541
ADAM-4570 -4571 -4577 -4579 - 4572 -4570 -4571 (suffix letters are omitted in these 3 lists)
PCI-1601 -1603 -1602 -1604 -1610 -1611 -1612 -1620 -1622 -1625
Prices:
EKI-2525-AE 5-port 10/100Mbps unmanaged Ethernet switch $135+GST 9/09
EKI-2525I-AE 5-port 10/100Mbps Unmanaged FE Switch(WideTemp.) $211
EKI-2525M-AE 4-port 10/100M+1 Fiber unmanaged Ethernet switch $291
EKI-2525M-AE-DEMO Ex-Demo (SAP Memo item sale. Loc 1240) $259
EKI-2525PA-AE 5-port 10/100Mbps unmanaged POE Ethernet switch $409
EKI-2525P-AE 5-port 10/100Mbps unmanaged POE Ethernet switch $355
EKI-2526M-AE 4-port 10/100M+2 Fiber unmanaged Ethernet switch $355
EKI-2526PI-AE 6 port Industrial Switch with 4 port PoE $452
EKI-2526S-AE 4+2 100FX Port M.M. Unmanaged Ethernet Swith $618
EKI-2526S-AE-DEMO Ex-Demo (SAP Memo item sale. Loc 1240) $573
EKI-2528-AE 8-port 10/100Mbps Unmanaged Ethernet switch $189
EKI-2528I-AE 8-port Unmanaged Ind. Ethernet Switch,Wide Temp. $269
EKI-2541M-AE Ethernet to Multi mode Fiber Media converter $195
EKI-2541MI-AE Ethernet to MM Fiber Media converter(wide temp.) $317
EKI-2541S-AE Ethernet to Single mode fiber media converter $296
EKI-2541SI-AE Ethernet to SM fiber media converter (Wide Temp) $392
EKI-2701PSI-AE Industrial Ethernet PoE Splitter, wide temp. $248
EKI-2725-BE 5-port Ind. Unmanaged GbE Switch (Green) $248
EKI-2728-BE 8-port Ind. Unmanaged GbE Switch $355
EKI-2741F-AE GbE to SFP fiber media converter $248
EKI-2741LX-AE GbE to Single mode fiber media converter $452
EKI-2741LXI-AE GE to SM Fiber Media converter(wide temp.) $586
EKI-2741SX-AE GbE to Multi mode fiber media converter $334
EKI-4654R-AE 24+2 SFP Port Managed Industrial Ethernet switch $1,847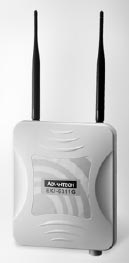 EKI-6311G/EU-AE IEEE 802.11b/g Wireless AP/Client Bridge $575
EKI-6311G-AE IEEE 802.11 b/g Wireless AP/CB $575
EKI-6538-AE 8-port 10/100 Mbps Industrial Smart Switch $463
EKI-7554MI-AE 4+2 100FX Port M.M. Managed Switch(Wide Temp.) $1,063+GST 9/09
EKI-7554SI-AE 4+2 100FX Port S.M. Managed Switch(Wide Temp.) $1,546
EKI-7559MI-AE 8+2 100FX Port M.M. Managed Switch(Wide Temp.) $1,332
EKI-7559SI-AE 8+2 100FX Port S.M. Managed Switch(Wide Temp.) $1,869
EKI-7626C-AE 16+2G Combo Ports Ind. Unmanaged GbE Switch $682
EKI-7626CI-AE 16+2G Combo Ports Ind. Unmanaged Switch (Wide T) $790
EKI-7629C-AE 8-port 10/100Mbps + 2-port SFP combo GbE switch $414
EKI-7629C-AE-DEMO Ex-Demo (SAP Memo item sale. Loc 1240) $301
EKI-7629CI-AE 8-port 10/100Mbps+2-port SFP combo GbE switch(W) $527
EKI-7654C-AE 4+2G Industrial Managed Redundant GbE switch $790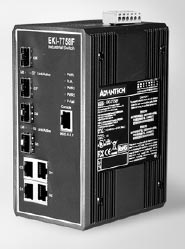 EKI-7656C-AE 16+2G Combo Ports Ind. Managed GbE Switch $1,815
EKI-7656CI-AE 16+2G Combo Ports Ind.Managed GbE Switch(Wide T) $1,976
EKI-7657C-AE 7+3G Port Managed Industrial Ethernet Switch $1,063
EKI-7659C-AE 8+2G Industrial Managed Redundant GbE switch $956
EKI-7659CI-AE 8+2G-port Ind. Managed GbE Switch(wide temp.) $1,063
EKI-7758F-AE 8G port Industrial Managed Redundant GbE Switch $1,219
EKI-6538 8-port Industrial 10/100/1000Mbps
Industrial Gigabit Ethernet Switch
Provides push button for port diagnostic
Supports web browser configuration and RS-232 console for basic setting
Supports IEEE 802.1Q tagged VLAN
Supports ports aggregation, aggregated ports auto failed over and load balance per trunk
Supports port mirroring for traffic monitoring

Supports IEEE 802.1p QoS for traffic classification and prioritization
Provides port configuration for auto-negotiation setting of speed/flow control
Supports ingress/egress rate control per port and broadcast storm protection
Supports MAC-based security per port
Supports traffic statistic monitor per port
Supports dual +10 ~ 48 VDC power input
Supports operating temperature: 0 ~ 60°C
Equipped with 8x 10/100Base-TX Fast Ethernet ports with RJ-45 connectors, Advantech's EKI-6538 Industrial Smart Ethernet Switch presents as a cost-effective solution for the industrial customers to implement Ethernet packet switching with easy configuration of network performance and security in harsh environments.
With its rugged industrial features, such as wide dual power input (10~48 VDC), wide operating temperature (0 ~ 60°C), compact design and multiple mounting ways, the EKI-6538 is one of the most reliable Ethernet switches in the industrial market today.
Furthermore, the EKI-6538 plays smarter than other unmanaged switches in network management with VLAN, QoS, Port Mirroring, and Port Trunk.
ADAM-6510 Series: Ethernet Networking Modules
The industrial-grade Ethernet hubs, switches, and converters are designed to allow users to expand their industrial network fast and cost-effectively. Their rugged design ensures system reliability and stability.
Jump to ADAM-6510 on the ADAM-6000 page on this site
---
Modbus over Ethernet
Modbus Protocol - The de facto industry standard
Modbus Protocol is a messaging structure developed by Modicon in 1979. It is used to establish master-slave/client-server communication between intelligent devices.
It is a truly open de facto standard that is the most widely used network protocol in the industrial manufacturing environment. Modbus has been implemented by hundreds of vendors on thousands of different devices to transfer discrete/analog I/O and register data between control devices.
It's the common denominator between different manufacturers. One report called it the "de facto standard in multi-vendor integration". Industry analysts have reported over 7 million Modbus nodes in North America and Europe alone.
It is used to monitor, program and exchange information between devices. It is also used to manage distributed I/O, being the preferred protocol of manufacturers. Combining versatile, scaleable, and ubiquitous physical (Ethernet) and transport protocol (TCP/IP) standards with a vendor-neutral data representation (MODBUS®), results in a truly open and accessible network for exchange of process data.
Modbus TCP/IP motivation
Modbus TCP/IP was designed to enable the Modbus protocol to be used over the Internet. To this end, the Modbus protocol specification has been submitted to the Internet Engineering Task Force (IETF). In practical terms, this means that a Modbus TCP/IP device installed in Europe can be addressed over the Internet from the USA or anywhere else in the world. The implications for an equipment vendor or an end-user are endless. For example:
Performing maintenance and repair on remote devices from the office using a PC and browser to reduce support costs and improve customer service.
Logging onto a plant's control system from home allows the maintenance engineer to maximize his plant's uptime and reduce the number of times that he is called out from home.
Managing geographically distributed systems becomes easy with commercially available Internet/intranet technologies.
Modbus TCP/IP protocol details
Modbus TCP embeds a Modbus frame into a TCP frame. This is a connection-oriented transaction which means every query expects a response.
This query/response technique fits well with the master/slave nature of Modbus, adding to the deterministic advantage that switched Ethernet offers industrial users. The use of open Modbus within the TCP frame provides a totally scaleable solution from ten nodes to ten thousand nodes without the risk of compromise that other multicast techniques would give.
Modbus TCP/IP system performance
The performance basically depends on the network and the hardware. If you are running Modbus TCP/IP over the Internet, you won't get better than typical Internet response times. However, for debug and maintenance purposes, this may be perfectly adequate and will save you from having to catch a plane to go to a site on a Sunday morning!
For a high-performance intranet with high-speed Ethernet switches to guarantee performance, the situation is completely different.
In theory Modbus TCP/IP carries data at up to 250/(250+70+70) or at about 60% efficiency when transferring registers in bulk, and since 10Base-T Ethernet carries about 1.25 MB/s raw, the theoretical throughput is: 1.25M / 2 * 60% = 360000 registers per second. The speed of 100Base-T is 10 times greater.
This assumes that you are using devices that can service requests at full Ethernet bandwidth. Practical tests carried out by Schneider Automation using a MOMENTUM™ Ethernet PLC with Ethernet I/O demonstrated that up to 4000 I/O bases could be scanned per second, each I/O base having up to 16 twelve-bit analog or 32 discrete I/O signals. Four bases could be updated per millisecond. While this is below the theoretical limit calculated above, it must be remembered that the tested device was running with an 80186 CPU running at 50 MHz with an effective computing power of 3 MIPS (compared to the 700 MIPS of a 500 MHz Pentium). These results are nevertheless faster than the proprietary I/O scan methods used to date.
As low-end CPU's get cheaper, MOMENTUM-type devices will chase the theoretical limit, although they'll never reach it because the limit will be continually pushed further away with 1 Gigabit Ethernet, 10 Gigabit Ethernet, etc. This is in contrast to other field-buses which are inherently stuck at one speed.
Modbus TCP/IP system benefits
When it comes to choosing a network for your device, Modbus TCP/IP offers several significant advantages:
Simple: Modbus TCP/IP simply takes the Modbus instruction set and wraps TCP/IP around it. If you already have a Modbus driver and you understand Ethernet and TCP/IP sockets, you can have a driver up and running and talking to a PC in a few hours. Development costs are exceptionally low. Minimum hardware is required, and development is easy under any operating system.
Standard: There are no exotic chipsets required and you can use standard PC Ethernet cards to talk to your newly implemented device. As the cost of Ethernet falls, you benefit from the price reduction of the hardware, and as the performance improves from 10 to 100 Mbit/s and soon to 1 Gbit/s, your technology moves with it, protecting your investment. You are no longer tied to one vendor for support, but benefit from the thousands of developers out there who are making Ethernet and the Internet the networking tools of the future. This effort has been complemented with the assignment of the well-known Ethernet port 502 for the Modbus TCP/IP protocol.
Open: The Modbus protocol was transferred from Schneider Electric to Modbus-IDA in April 2004, signaling a commitment to openness. The specification is available free of charge for download, and there are no subsequent licensing fees required for using Modbus or Modbus TCP/IP protocols. Additional sample code, implementation examples, and diagnostics are available from the Modbus TCP toolkit, a free benefit to Modbus-IDA members that is available for purchase by nonmembers.
Widely available: Interoperability among different vendors' devices and compatibility with a large installed base of Modbus-compatible devices makes Modbus an excellent choice.
The path to seamless integration
The integration of automation and enterprise systems require a change in the architecture of open control systems. From Advantech's point of view, this level of integration between automation and enterprise systems can only be accomplished through Internet technology. Traditional enterprise, plant information, control, device, and sensor layers require a data gateway to communicate between layers. The key to seamless integration is a common network architecture that breaks the separation between these traditional layers. Industrial Ethernet is regarded as the most appropriate network to accomplish the task in industrial automation.
There is a trend to move I/O to remote locations to reduce wiring costs. Remote I/O is becoming smarter and is being equipped with control functions during the transition from today's 16 ~ 64 I/O multiplexers to the smallest remote I/O units with perhaps as few as four I/O signals. This transition will happen in the near future. The ADAM-6000 series is designed to realize this concept of the smart I/O blocks. With control algorithms and mathematical functions built in, the ADAM-6000 series is a revolutionary smart I/O module close to the sensor layer in automation.
Jump to ADAM-6000 page on this site