Radio Modem & WDAS - with Serial, Digital I/O, Analog I/O
WDAS – Wireless Data Acquisition Systems
Acquire digital and analog data in the field, and transmit it by radio to the serial RS232 port of a host computer.
Control equipment using digital and analog outputs, by radio, from the serial RS232 port of a host computer.
Sending analog levels via radio link:
analog in —> radio link —> analog out
digital in —> radio link —> digital out
The units with analog or digital I/O can be used in a point-to-point configuration, for example:
• 2 analog inputs on W210A can be transmitted to 2 analog outputs on W510A, via the radio link;  or
• 8 digital inputs from one W310A can be transmitted to 8 digital outputs on another W310A.
This is illustrated in the Application Note (pdf file, 9 pages, opens in new tab or window).
More info on data transmission:
When used for data transfer between two M110A modems, the modems operate using data packets of up to 70 bytes. Each packet takes approx. 500msec to be transferred from one modem to the other. The modems will communicate on RS-232 or RS-485 at various baud rates up to 115kbps, however they are only designed for sending short data packets back and forth with gaps of 500msec or more between each packet.
More info on RF communication range – antennas:
In general, we recommend one of 3 types of antenna according to the RF range and communication environment.
Monopole Antenna, gain 1.3 dBi, range 1km at line-of-Sight
Whip Antenna, gain 3 dBi, range 2km at line-of-Sight
GP Antenna, gain 6 dBi, range 4km at line-of-Sight
The antenna gains are 1.3, 3 and 6dBi respectively, which guarantee 1km, 2km and 4km RF range at Line-of-Sight.
Because environmental conditions vary and often would not be line-of-sight, it is advisable to do a field test before deciding which antenna would be most suitable.
However we can provide guidelines about which antenna to use, based on previous field tests – please contact us with the details of your application.
RF Modem & WDAS
– Wireless Data Acquisition System Common Specifications M and W Series
Common Specifications
RF Features
Appearance Specifications
● Frequency : 433MHz with 25KHz Channel Spacing
● Transmitter Power : 10mW
● Receiver Sensitivity : -116 ~ -120dBm(-116dBm Typ.)
● Modulation : FSK
● Bandwidth : < 14KHz
● Operation Temperature : -10℃ ~ +60℃
● Housing : Aluminum
● Reverse Power/Overvoltage /Overcurrent Protection
Performance
Application
● Expected Line-Of-Sight Range : Up To 1.5km with λ/4
Dipole Antenna
● RF Data Rate : 4800 Baud, 7200 Baud
● Environment Monitoring, Factory Automation, Remote
Control, etc.
Product Classification
Product \ I/O Interface
Serial
Analog Input
Analog Output
Digital Input
Digital Output
M110A
RS232
RS485
–
–
–
–
W110A
RS232
5 Channel
–
8 Channel
8 Channel
W210A
–
2 Channel
–
–
–
W310A
–
–
–
8 Channel
8 Channel
W410A
–
–
–
4 Channel
–
W510A
–
–
2 Channel
–
–
W610A
–
8 Channel
–
–
–
Wireless Data Acquisition and Control System
M110A  RF Modem with Serial interface
Use M110A with host computer and with remote M110A serial device or devices or with WDAS analog & digital remote devices below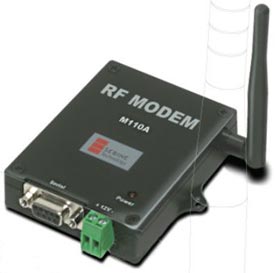 I/O Interface
Serial Data
– RS232/RS485 Selectable
– Serial Communication Basic Setting (User Selectable):
Data 8 Bit, No Parity, 1 Stop Bit
– User Selectable Baud Using DIP Switch
1200, 2400, 4800, 9600, 19200, 38400, 57600, 115200 bps
– 9 Pin D-SUB Female Connector
Certification – CE
Dim:  93.9mm(L) X 69mm(W) X 18.6mm(H) (w/o Antenna)
Weight: 130g (w/o Antenna)
Power Supply:   +12Vdc ±10%, Reverse Power/Overvoltage/Overcurrent Protection
Current Consumption:   78mA at Tx, 70mA at Rx(@12Vdc)
Operating Temperature:   -10°C  ~  +70°C
Antenna Interface:  SMA Connector,  impedance 50Ω
User manual for M110A (pdf file, opens in new tab or window)
WDAS = Wireless Data Acquisition System
These can work as "one master to multiple slaves" using serial ports.   Each slave has a device ID.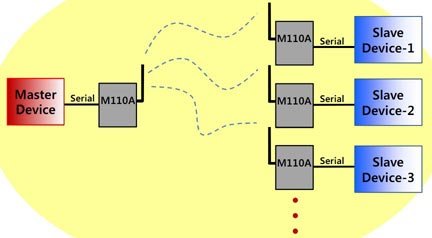 W210A  WDAS with Analog inputs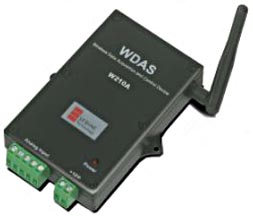 I/O Interface
Analog Input
– 2 Ch. Analog Input, with 16 bit resolution, 0-5V, 0-10V, 4-20mA
– User Selectable Input Type: Current or Voltage
Certification – CE
Dimension: 109mm(L) X 69mm(W) X 18.6mm(H)(w/o Antenna)
Weight: 150g (w/o Antenna)
Power Supply: +12Vdc ±10%, Reverse Power/Overvoltage/Overcurrent Protection
Current Consumption: Max. 82mA (@12Vdc)
Operating Temperature: -10°C ~ +70°C
User Selectable RF Channel by DIP Switch : 16 Channels
User Selectable Transmitting Period by DIP Switch : 2sec~64sec, 2min~64min
Antenna Interface:   SMA Connector,  impedance 50Ω
Download User Manual for W210A (pdf file, 21 pages, opens in new tab or window)
Download Application Notes (pdf file, 9 pages, opens in new tab or window)
W310A  WDAS with Digital I/O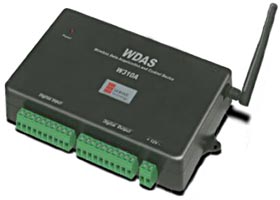 I/O Interface
Digital Input
– 8 Ch, Opto-Isolated Input Up To 2500Vrrns
– Max, 50mA for Each Channel
Digital Output
– 8 Ch. NPN Open Collector Output
– Max, 50V and 500rnA for Each Channel
Dimension:  14mm(L) X 69mm(W) X 18.6mm(H) (w/o Antenna)
Weight:  200g(w/o Antenna)
Power Supply:   +12Vdc ±10%, Reverse Power/Overvoltage/Overcurrent Protection
Current Consumption:   Max. 117mA (@12Vdc)
Operating Temperature:   -10°C  ~  +70°C
Antenna Interface:  SMA Connector,  impedance 50Ω
WDAS = Wireless Data Acquisition System
W410A  WDAS with Digital Inputs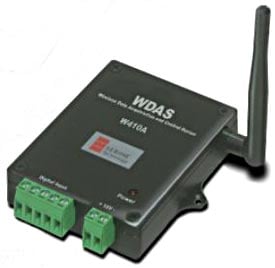 I/O Interface
Digital Input
– 4 Ch, Opto-Isolated o 2500Vrms
– Max, 50mA for each channel
Certification – CE
Dimension: 93.9mm(L) X 69mm(W) X 18.6mm(H) (w/o Antenna)
Weight:   170g(w/o Antenna)
Power Supply:   +12Vdc ±10%,
Reverse Power/Overvoltage/Overcurrent Protection
Current Consumption:   Max. 90mA (@12Vdc)
Operating Temperature:   -10°C  ~  +70°C
Antenna Interface: SMA Connector, impedance 50Ω
W510A  WDAS with Analog Outputs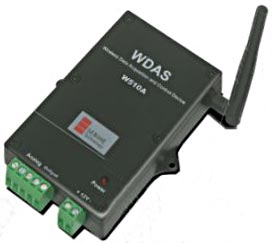 I/O Interface
Analog Output
– 2 Ch. Analog Output,
with 16 bit resolution: 0-5V, 0-10V, 4-20mA
– User Selectable Output Type Current or Voltage
Certification – CE
Dimension:  109mm(L) X 69mm(W) X 18.6mm(H) (w/o Antenna)
Weight:   150g (w/o Antenna)
Power Supply:   +12Vdc ±10%,
Reverse Power/Overvoltage/Overcurrent Protection
Current Consumption:   Max. 110mA (@12Vdc)
Operating Temperature:   -10°C ~ +70°C
Antenna Interface:  SMA Connector,  impedance 50Ω
R110A   RF Repeater
(This is physically the same as the M110A but with different firmware)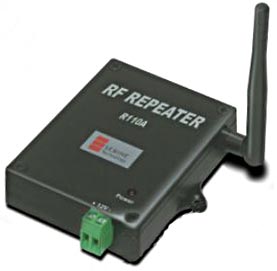 Wireless Transceiver : ISM 434MHz, Power Output 10mW
Easy-to-Use : Automatic operation after power ON.
Long Range Performance : Line-of-Sight Range : up to 1.5km
Applications : Extend transmission range of RF Modem and WDAS
Dimension : 88.1mm(L) X 69mm(W) X 18.6mm(H) (w/o Antenna)
Weight : 120g (w/o Antenna)
Power Supply : +12Vdc ±10%, Reverse Power/Overvoltage/Overcurrent Protection
Current Consumption : 78mA at Tx, 70mA at Rx (@12Vdc)
Operating Temperature : -10°C ~ +70°C
Certification – CE 
  WDAS = Wireless Data Acquisition System
Keycode:
W110A  WDAS with Serial, Digital I/O, Analog input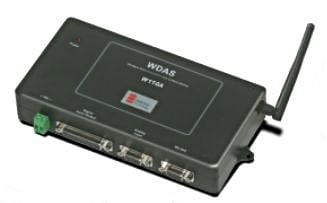 Not CE certified yet  –  not C-Tick approved yet
Serial Data
– RS232
– Serial Communication Basic Setting, user selectable:
Data 8 Bit, No Panty, 1 Stop Bit
– User Selectable Baud Using DIP Switch
1200, 2400, 4800, 9600,
19200, 38400, 57600, 115200 bps
– 9 Pin D-Sub Female Connector
Digital Input
– 8 Ch, Opto-Isolated Input : Up To 2500Vrms
– Max. 50mA for each channel
Digital Output
– 8 Ch, NPN Open Collector Output
– Max. 50V and 500mA for Each Channel
Analog Input
– 5 Ch. Analog Input, with 10 bit resolution,   0-5V, 0-10V, 4-20mA
– Ch. #0 Voltage Input
– Ch. #1 — #3 : User Selectable Input Type: Current or Voltage
– Ch. #4 Current Input
Dimensions:  105mm(L) X 212mm(W) X 34mm(H) (w/o Antenna)
Weight:  510g(w/o Antenna)
Power Supply:  +9 ~ 35Vdc, Reverse Power/Overvoltage/Overcurrent Protection
Current Consumption:   Max. 1.04W @24Vdc
Operating Temperature:   -10°C  ~  +70°C
Antenna Interface:  SMA Connector,  impedance 50Ω
Price List
Prices do not include GST and may change without notice      Oct 2017
| | | |
| --- | --- | --- |
|   |   | not including GST |
| M110A | Radio Modem Rs-232/RS-485, includes stub antenna | $POA |
| W210A | WDAS with Analog inputs, includes stub antenna | $POA |
| W310A | W310A  WDAS with Digital I/O, includes stub antenna | $POA |
| W410A | W410A  WDAS with Digital Inputs, includes stub antenna | $POA |
| W510A | W510A  WDAS with Analog Outputs, includes stub antenna | $POA |
|   | Antennas |   |
| Ant-stub | Stubby antenna (included with modems) | $POA |
| Ant-half-wave | Half wave antenna | $POA |
| Ant-whip | Whip antenna, metal, with mounting bracket (does not include cable) | $POA |
| Ant-GP | GP antenna | $POA |
| Ant-Yagi-6el | Yagi antenna, 6 element | $POA |
| Ant-Yagi-12el | Yagi antenna, 12 element | $POA |
| Cable-5m | 5m Cable to suit antennas | $POA |
| SolarSystem | Solar Powering System | $POA |