PowerScout Series & TCA-5 module
Power Measurement and Data Logging - Dent Instruments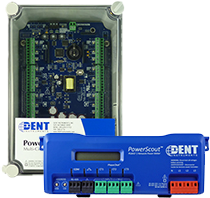 The PowerScout series networked Modbus/BACnet power meters are designed to provide timely and accurate consumption data to gain the upper hand on electrical costs in today's escalating energy market. PowerScout meters can capture kWh/kW energy and demand data as well as virtually all relevant energy parameters for diagnostics and monitoring on three-phase or single-phase circuit installations. This data is made available in real time via Modbus or BACnet protocols, over RS-485 or Ethernet. The PowerScout's flexibility, size, and ease-of-use make them ideal tools for gathering detailed consumption data in commercial, industrial, government and retail environments.
New models – PowerScout Series
Dent TCA-5 Module: You can now use the flexible Dent RoCoil current transformers with legacy equipment that requires a 0-5A current input, with the TCA-5 high accuracy converter module.
TCA-5 5-Amp Converter Module for use with DENT Instruments RoCoil
---
The RoCoil TCA-5 is a three-channel integrating transconductance amplifier (TCA) that converts the 131mV/1000A electrical output signal from the RoCoil current sensor to a 5 amp AC current, emulating a traditional current sensing transformer.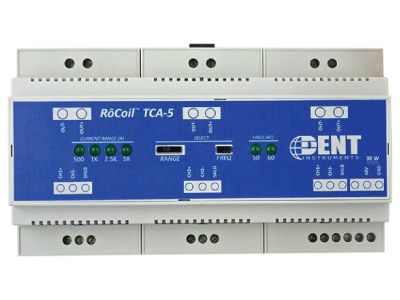 Click here to show/ hide more info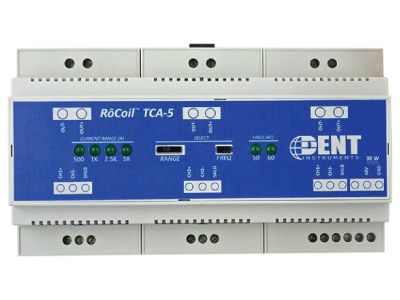 Flexible Current Transformers (CTs) give a clear-cut advantage over conventional split-core or clamp-on CTs, but they do not provide the 0-5A outputs required by many applications.
The new TCA-5 from Dent Instruments fulfils this 5 amp output requirement in the marketplace.
The Dent Rocoil TCA-5 delivers the flexibility and ease of installation of the RoCoil current sensors to applications using power meters with 5A current transformer input.
Those who use 5 amp current input power meters will now be able to take advantage of the easy installation, high accuracy and broad current range coverage offered by RoCoil flex probe CTs.
The RoCoil TCA-5 is factory-calibrated to work with DENT RoCoil CTs (131mV/1000A). It is a DIN rail or panel mounted device requiring an external 48 VDC power supply. The RōCoil TCA-5 has four selectable current ranges:
500, 1K, 2.5K, and 5K amps and selectable frequency for both 50 and 60 Hz systems.
Data sheet on TCA-5 (pdf file, opens in new tab)
User Manual on TCA-5 (pdf file, opens in new tab)
Operation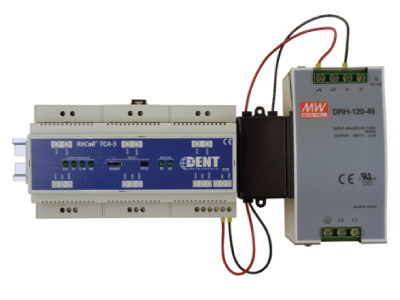 AC/DC 48V Power Supply  (at the right side of the picture)
The RoCoil TCA-5 requires an external 48 VDC power supply for operation.
Two versions of the power supply are available:
a 120/240VAC "low voltage" version and a 200/500VAC "high voltage" version.
The power supply is provided as part of the RoCoil TCA-5 kit or may be ordered separately.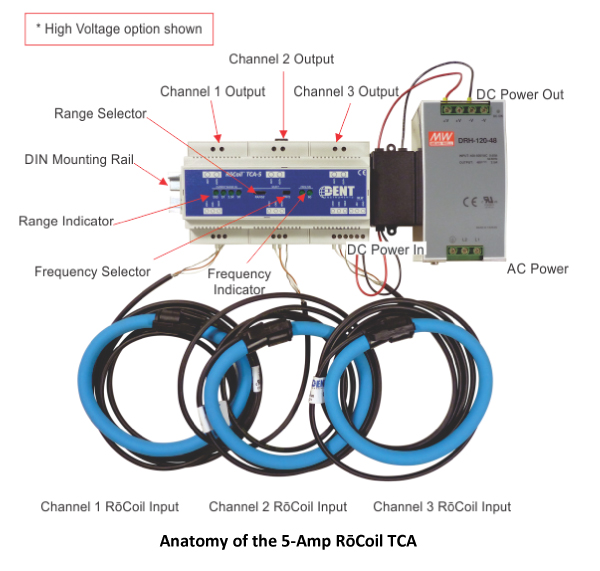 Selectable Current Ranges and Frequency
The RoCoil TCA-5 has four selectable current ranges: 500, 1000, 2500, and 5000A.
The range is changed using a switch on the front of the device. See Current Ranges table (left) for current range information.
A separate switch on the front is used to change the frequency between 50 and 60 Hz.
Output Impedance/Burden
The wire that connects the RoCoil TCA-5 to the power meter is supplied by the user. Linearity and precision are maintained by using the correct output wire size.
The maximum allowable output impedance (or burden) of 70 m-ohm plays a critical role in the selection of output wire size and the allowable distance between the power meter and the RoCoil TCA-5.
The voltage drop allowed by the output circuitry (i.e., the voltage drop due to current flowing through the sum of the wire resistance and meter burden) is 350 mV RMS or 1.75 VA.
Installation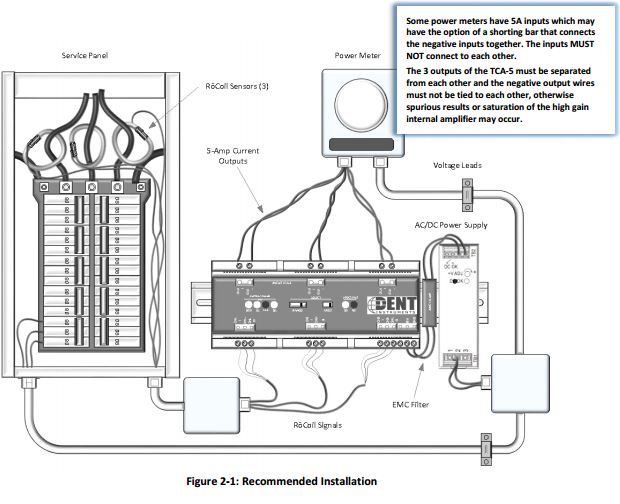 The RoCoil TCA-5 is intended to be wall mounted with the output terminals facing up.
Three RoCoil current sensors will typically be installed inside the service panel at the feeder or around the branch circuit of interest.
The RoCoil TCA-5 can be mounted as a panel unit using slide-out tabs on the back or mounted on a 35 mm width DIN rail (a 10″ section of DIN rail is included when ordered as a kit).
Notes
The TCA-5 module only comes in a 3 phase version. There is no single phase version.
It will only work with DENT Instruments RoCoil CTs.
It comes into it's own with the new CT-RXX-4A-U series of RoCoils,
with accuracy of <0.6% over the range 10% to 100% of FSD.
The linearity is also <0.1% over the range of 10% to 100%.
All RoCoils are individually tested at the factory, at 10% & 100% FSD, prior to shipment, to ensure they comply.
The TCA-5 comes complete with DIN rail mounting strip, which also mounts the external power supply.
The 48Vdc power supply comes in two versions, for single phase (A-N) & three phase for (phase-phase) delta supplies.
The great feature is that it has a mechanical range switch on the front cover, which can set the 0-5A output to represent an input range of 500A, 1000A, 2500A, & 5000A, with full resolution.
There is also a switch to select 50Hz or 60Hz supply frequency.
No software or PC set up required.
This product is only for applications where a Rogowski type CT is required to provide a 0-5A output for existing installed equipment, that will only accept a 0-5A input signal, such as metering applications.
Coil dimensions – see diagram below.
Kit pricing, including the TCA-5 and power supply to suit:
| Part No | Product Detail | Price (ex-GST) |
| --- | --- | --- |
| TCA-5-HV-KIT | RōCoil TCA-5. For use with DENT RōCoil CTs. Includes High Voltage (200/500 VAC) power supply for use on 3-phase services, wiring harness, and TS35/7 DIN rail. (does not include RōCoil CTs) | $1,999.20 |
8/15
Note that the DENT spec. advises that DENT do not guarantee that the unit will meet specs or UL list certification, unless the DENT power supply & filter supply is supplied & fitted.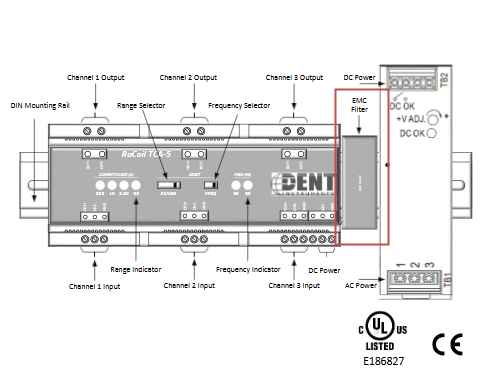 RoCoil series of Current Transformers - for use with TCA-5
Data on RoCoil
(pdf file, opens in new tab)
The new improved RoCoil series of CT pricing remains unchanged.
| Product Name | Part No | Price (ex-GST) |
| --- | --- | --- |
| RoCoil 40cm Flexible CT | CT-R16-A4-U | $235.2 |
| RoCoil 60cm Flexible CT | CT-R24-A4-U 262 | $293.44 |
| RoCoil 90cm Flexible CT | CT-R36-A4-U | $420 |
| RoCoil 120cm Flexible CT | CT-R47-A4-U | $501.76 |
| RoCoil 182cm Flexible CT | CT-R72-1310-U | $840 |
Note: There is a new model RoCoil introduced which is 47″ long and has an ID of 37cm.
The 72″ model has been retained, but is still in the thicker format.
NOTE WELL: The secret to the successful application of this product is getting the unit mounted physically close to where the 0-5A output is required. Because of the higher 5A signal, customer's cable size between TCA-5 & metering etc. is critical, and the manuals instructions & suggestions as to cable sizing is very critical.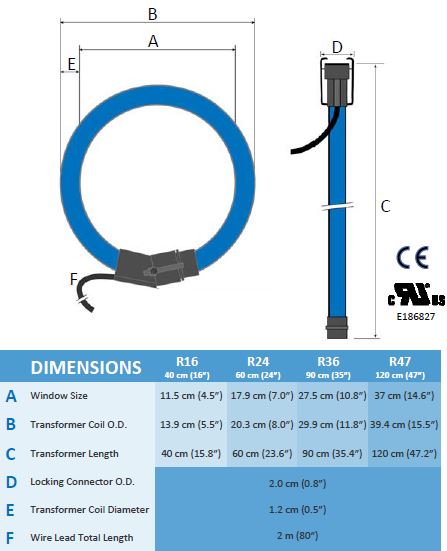 Accessories
| Product Name | Part No | Price (ex-GST) |
| --- | --- | --- |
| USB Cable | CBL-USB-A-B MALE | $23.52 |
| Croc Clip HV Clip/Probe | CLP-CRC-XXX | $24.64 |
| Croc Clip HV Fused Clip/Probe | CLP-CRC-FUS-XXX | $53.76 |
| Shark Clip HV Clip/Probe | CLP-SHARK | $53.76 |
| Unterm Lead Set | ESP-US-LD-SET | $110.88 |
| 2M Lead Set | ESP-US-2M-LD-SET | $140.00 |
| WP Encl | EXC-W-INT | $784.00 |
| XC Transformer | ESP-XFMR | $72.80 |
| XC Transf WP | XF-09V-ESP-WT | $151.20 |
| Case-ESP | CASE-ESP | $171.36 |
| SP/XC CT Connectors Set 3x2W 1x3W | CT-CONN-SET | $40.32 |
| PowerScout RS485 Optical adaptor | PS-USB-485-ADPT | $442.40 |
Obsolete Products
PS3P-I    PowerScout™ 3 Plus
PS3E-I  PowerScout™ 3 Plus Ethernet
Replaced by PowerScout 3037 models above