Dent ELITEpro XC 3-phase power data logger
A high accuracy and versatile 3-phase energy/power data logger
Dent ELITEpro XC 3-phase power data logger
Energy Data Logger: A high accuracy and versatile 3-phase energy/power data logger, which measures and records many power parameters, with 4 Analogue Inputs for additional sensors such as temperature.
Manage your energy usage by measuring, logging and analysing electrical loads, plus physical measurements such as temperature.
The ELITEpro XC is a recording poly-phase energy meter, capable of measuring up to:
four single-phase loads, or
two three-phase Delta loads, or
one three-phase Wye load…
plus up to 4 analog environmental sensors.
Ideal for applications such as:
Sub-metering – Allocate costs in departments, tenant spaces, process lines, or entire buildings;
Energy Audits – Identify energy usage and consumption – 'when and where' ;
Developing protocols for conserving energy, based on measured data;
Reducing operating costs by measuring performance & verifying results.
Input channels: Connect 4 AC current sensors (see current transformers below), and
3 AC voltage inputs (600V AC or DC line to line), plus
4 analog DC sensor inputs (4-20mA or 0-10V DC).
Communicate via USB port, Ethernet port, or via wireless LAN (WiFi models only).
The "PhaseChek" LED indicators ensure correct CT orientation at installation.
Electrical measurments recorded:
Volts, Amps, Amp-Hrs (Ah),
kW, kWh, kVAR, kVARh, kVA, kVAh,
Displacement Power Factor (dPF).
All parameters for each phase, and for 3-phase system total.
Records Min/Max/Average over user selectable recording intervals.
High Accuracy: better than 1% (<0.2% typical) for V, A, kW, kVAR, kVA, PF
Great Resolution: 0.01 Amp, 0.1 Volt, 1 Watt, 1 VAR, 1 VA, 0.01 PF
Large Data Storage: 16MB of memory stores 3.6 Million data points
With 3 single phase 20A lighting circuits, logging only Power (kW) and Energy (kWh) of each circuit, at 15 minute intervals, the logger's memory will accommodate 13 years of data.
Harmonic Analysis
When connected to a PC running ELOG software, It will calculate harmonics from DC through the 63rd then report total harmonic distortion (THD), crest factor and peak voltage & current.
Analog Inputs for External Sensors
The 4 analogue inputs allow the ElitePro XC to log other engineering parameters, using industry standard sensors with DC voltage or DC mA current outputs.
The four (4) DC analogue inputs can be configured as 0-10VDC, 0-20mA DC, or 4-20mA DC. They can also be scaled for any real-world units & span.
These are very useful for environmental measurements such as outdoor temperature, or process measurements like flow, pressure etc., as these can be logged alongside the electricity consumption.
ELITEPRO XC ANATOMY
The Logger that Pays for Itself
Our research & feedback has shown a few specific things about the ElitePro XC:
It is as powerful as a Fluke equivalent, but at a much more cost effective price.
ROI – Energy audit customers advise the ElitePro XC loggers pay for themselves in 2-3 months.
Easy to Use – We have found the technical support needed for this product is very low.
Unlike a lot of products, the power of the ElitePro is not the logger itself, but the data & information it can produce with a minimum amount of effort and expertise.
Notes on Wireless / WiFi models
The EliteProXC is available in 3 variants in Australia: a base model (no WiFi), a WiFi model with a built-in antenna, and a WiFi model with an external antenna. (Note the Bluetooth model is not normally sold in Australia.)
The WiFi models are useful in scenarios such as:
Accessing a data logger installed in an electrical cabinet, from a laptop nearby: For adjusting the logger settings and downloading data, it can be very convenient to connect to the data logger wirelessly, from your laptop, held near the cabinet. Opening electrical cabinets can be troublesome for safety reasons, and can often require power shutdowns, due to cabinet door interlocks. The ElitePro XC can act as a WiFi hotspot, which you can connect to directly from your laptop. However, if the WiFi antenna is inside the cabinet, the WiFi transmission signal can sometimes be compromised by the metal & earthed electrical cabinet, and the high level of electrical noise interference present. Hence in some cases (mainly for permanent installations) it's better, use the ElitePro XC with an external WiFi antenna. A smartphone app is also available for Android and iOS, that allows the logger to be configured and checked via WiFi.
Accessing the logger using a permanent connection to a local network: If possible, this is best done using the ElitePro XC wired Ethernet port. However if there is a WiFi LAN network present near the data logger, you could configure it to connect to that existing WiFi LAN network. Then you can access the logger remotely from a PC on the existing local area network. Note that this requires your network and the logger to be configured correctly.
Accessing the logger remotely via 3G/4G networks: Remote site access can also be carried out, via a 3G/4G Cellular Router with an Ethernet port and suitable SIM and network configurations. This can be great for sub-metering applications or process monitoring, where the logger is permanently installed and you need to regularly download data, whilst located away from the site.
All ElitePro XC energy loggers carry the new Australian RCM safety & emission mark requirement.
Included with every ELITEpro XC kit:
1 x ELITEpro XC energy logger  

1 x Carry case to enclose all accessories & CTs
1 x Certificate of calibration
4 x Fused high voltage alligator clips (see image)
4 x HV high quality terminated silicon leads (2m)  *(see below)
4 x Unterminated HV leads. (300mm)
1 x USB interface cable
1 x Hardcopy quick start manual
1 x ELOG software CD
1 x 9 volt plug pack wall power supply
* The "HV high quality terminated silicon leads (2m)" are terminated at both ends. One end connects to the ElitePro XC, and the other end connects to either the alligator clips or the 300mm unterminated leads, for connecting to the voltage source.
Notes about ElitePro data storage (click to view)
ElitePro logger Memory Details
The ElitePro logger has too many variables to be able to provide a quick & easy calculation as to memory capacity in days, hours & minutes.
ELOG software provides a convenient feature that calculates the length of time required to fill the memory for any setup table.
The feature is dynamic, so that any time any parameter in setup table affecting the memory duration is changed, the "Calculated Days Until Memory Exhausted" is updated.
This allows the operator to know in advance how long the memory will last.
The ElitePro Integration period affects the memory capacity. It has
integration periods of 1, 3, 15, 30 seconds, 1, 2, 5, 10, 15, 20, 30 minutes, & 1, 12, & 24 hours.   * More about this below
The ElitePro has four (4) channels each of which will log up to six (6) parameters of volts, amps, kWatts, KVA, P.F. KVAr
Each of these parameters can have four measurements logged for each integration period.
They are min, max,average, instantaneous.
In addition the ElitePro has two (2) virtual summation channels (no external connections).
One of these is typically used to measure totals or averages of the individual phase parameters.
With all 6 channels activated and all parameters selected for min, max, average, & instantaneous,
the ElitePro will log a staggering 144 parameters.
In addition there are alarm settings for each parameter, channel descriptor, and channel comments,
VT ratio, CT ratio, that can be set, all using varying amounts of memory.
* The default integration period is fifteen minutes. The choices are 1, 3, 15, 30 seconds; 1, 2, 5, 10, 15, 20 and 30 minutes; 1 and 12 hours; 1 day.
This tells the logger at what time intervals data is to be stored in the memory.
For example, if the integration period is set for 30 minutes and average watts is being monitored, then every 30 minutes the logger records the average power use (watts) for that channel over the preceding 30 minute interval, based on about 600 measurements of the monitored power draw. If Maximum (and/or Minimum) values are being recorded the highest (and/or lowest) of those 600 readings are also saved.
Prices:
Prices include all accessories & software (listed above), except CTs and except the weatherproof case (purchased separately).
| Part No | Product Name | Price (ex-GST) |
| --- | --- | --- |
| EXCINF | ElitePro-XC Energy Logger package with USB & Ethernet (kit excludes CT's) | $3,001.60 |
| EXCIWIF | ElitePro-XC-WiFi-Int Energy Logger package with USB, Ethernet coms connections, & WiFi with internal aerial (kit excludes CT's) | $3,315.20 |
| EXCIWEF | ElitePro-XC-WiFi-Ext Energy Logger package with USB, Ethernet coms connections, & WiFi with external aerial (kit excludes CT's) | $3,466.40 |
Also required: Current transformers, see table below
| Part No | Product Name | Price (ex-GST) |
| --- | --- | --- |
| EliteProNEMA | Weatherproof Case for ElitePro XC (and SP), includes all glands & accessories required to fit an ElitePro XC energy logger | $700 |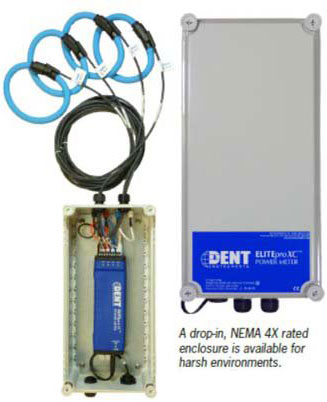 Rentals:
We have a number of rental units available.
An ElitePro XC kit, with 3 RoCoil CT's can be hired for $350+GST per week, up to a maximum of 4 weeks. Freight charges are extra.
If a client hires a logger for a week or more, to try it out, and subsequently purchases a new ElitePro XC within one month, we will deduct the hiring cost from the price of the logger.
Current Transformers for ElitePro XC and SP
These CT's are all suitable for ElitePro XC / SP loggers. The RoCoil flexible CT's are the most popular. With a set of RoCoil flexible CTs, the ElitePro XC is a powerful tool, with an ampere range of 5-5000A.
However, we do suggest that where clients need to measure currents below around 200 amps, that they use a set of the Hinged Mini or Midi Split Core CTs, for maximum resolution & accuracy. Most ElitePro XCs are now purchased with a set of RoCoils and a set of smaller CTs.
Prices do not include GST and may change without notice. (11/15)
Product style
Image
Part No
PDF
Max Amps
Window Size
Price
ex-GST
Split Core Hinged Mini

CT-HSC-020-U

20A
1cm

$53.76

CT-HSC-050-U

50A
1cm

$53.76

Split Core Hinged Midi

CT-HMC-100-U

100A
2.5cm

$140.00

CT-HMC-200-U

200A
2.5cm

$140.00

Split Core Small
NOTE: Limited stocks left of 5A, 15A, 50A models (superseded by Hinged Mini)

CT-SCS-005A

5A
1.9cm

$162.40

CT-SCS-015A

15A
1.9cm

$162.40

CT-SCS-050-U

50A
1.9cm

$162.40

CT-SCS-100-U

100A
1.9cm

$162.40

Split Core Medium

CT-SCM-100-U

100A
3.2cm

$199.36

CT-SCM-200-U

200A
3.2cm

$199.36

CT-SCM-400-U

400A
3.2cm

$199.36

CT-SCM-600-U

600A
3.2cm

$199.36

Split Core Large

CT-SCL-600-U

600A
5.1cm

$252.00

CT-SCL-1000-U

1000A
5.1cm

$252.00

High Accuracy Split Core
NOTE: Soon to be superseded by CT-SRS series

CT-SHS-005-U

5A
1cm

$336.00

CT-SHS-015-U

15A
1cm

$336.00

RoCoil: Flexible Rogowski Coil (direct output, suits Dent instruments only)

CT-R16-A4-U

5000A
11.5cm

$235.20

CT-R24-A4-U

5000A
17.9cm

$293.44

CT-R36-A4-U

5000A
27.5cm

$420.00

CT-R47-A4-U

5000A
37cm

$501.76

CT-R72-1310-U

5000A
56cm

$840.00

Clamp-On

CT-CON-0150EZ-U

150A
2.5cm

$162.40
Notes on RoCoil Current Transformers (Rogowski Coil) for ElitePro XC (CLICK TO VIEW)
Rogowski Coil Current Transformers have no metal cores which make them extremely flexible and light weight.
Because they lack a metal core, Rogowski coils have very low phase shift error, can be used on very high currents, and are suitable for highly distorted AC waveforms.
These "rope" style CTs are designed to take measurements where standard current sensors cannot.
The DENT RōCoil™Current Transformers have been designed for accurate non-intrusive measurement of
AC current, pulsed DC or distorted waveforms where conventional rigid core CTs are unsuitable.
This type of sensor may be used to measure AC current over a wide dynamic range and from 20 Hz to 5 kHz.
Note: Some applications may require use of integrator/amplifier such as the Dent TCA-5 (further down this page). See also RōCoil mV™ below.
Key Specs:
Various Lengths: 40 cm (16″), 60 cm (24″), 90 cm (35″), 120 cm (47″), and extra long 72″
Output Signal (di/dt): 131 mVAC/1000A @ 60 Hz, 109.2 mV/1000A @ 50 Hz
Current Range: 5 – 5000A AC*
Accuracy (typical): < 0.6%**
Notes:

The RoCoil CTs have recently changed slightly in their specification. They are slightly thinner than the previous models, but now have a better accuracy spec., improved from 1% to <0.6%. They also have better linearity over the range 10% to 100% of full scale. They are now all individually tested at the factory at 10% & 100% of full scale, to confirm they comply, & that linearity is within 0.1%. They are simply the best commercially available Rogowski coil CT currently available in the world, for this kind of application.
The original RoCoil MV CTs had a slight disadvantage, in that they had to be externally powered, & were as a result, a 4 wire device. The advent of the PowerScout & ElitePro XC, able to directly connect to a 2 wire RoCoil, has eliminated those concerns.
Added to that, the RoCoils have proved to have great accuracy, and now have a remarkable turn down ratio & range from 5 to 5000A, they are in many places being used where a traditional 500A clamp-on CT would have been previously applied.
RoCoil models suitable for the ELITEpro XC and SP, and for PowerScout:

The DENT RōCoil™Current Transformers have been designed for accurate non-intrusive measurement of AC current, pulsed DC or distorted waveforms where conventional rigid core CTs are unsuitable. This type of sensor may be used to measure AC current over a wide dynamic range and from 20 Hz to 5 kHz. Note: Some applications may require use of
integrator/amplifier. See also RōCoil mV™.
Data sheet on RoCoil range (pdf file, opens in new tab)
RoCoil mV Current Transformers (with millivolt output) for other equipment
For use with older ElitePro 128K & 512K and other equipment requiring 333mV AC
The DENT  RoCoil mV™   Flexible Current Transformers have been designed for accurate measurement of AC current with a safe, millivolt output.
These require external DC power, see below for details.
RoCoil mV Specs (.pdf files, opens in new tab or window)
Rogowski Application Note (.pdf files, opens in new tab or window)
The RoCoil-mV CT's below are suitable for the older ElitePro models, but require external power via the CT-INTER-BOX.
The following 5 items are only for use with older ElitePro 128K & 512K
| Part No | Product Name | Price (ex-GST) |
| --- | --- | --- |
| CT-RMV-16-1000 | flexible RoCoil current transformer 1000 amps, 333mV | $442.40 |
| CT-RMV-24-2000 | flexible RoCoil current transformer 2000 amps, 333mV | $504.00 |
| CT-RMV-36-3000 | flexible RoCoil current transformer 3000 amps, 333mV | $656.32 |
| CT-RMV-72-6000 | flexible RoCoil current transformer 6000 amps, 333mV | $1,046.08 |
Also required:
CT-INTER-BOX interface box to connect RoCoils together $185 +GST
These provide power to the RoCoil transformers above.
The ELITEpro's DC power output is only available when running in "line powered" mode.
To operate in "line powered" mode, the ELITEpro's voltage probes must be connected to a circuit (as per the .pdf sheet).
Notes on line powering the old model ELITEpro (pdf file, opens in new tab or window) superseded.   2el
Otherwise a separate plug pack (5 to 24VDC out, 30mA max per coil) must be used to power the RoCoils.