Electrical Power Data Loggers
Data loggers & meters for 3-phase and single phase power
Looking for an electrical power data logger? Or maybe a 3 phase power analyser? Choose from cost effective hand held units, to full featured data loggers and power analysers. Scroll down to take a look – then give us a call to discuss your needs.
Read More (Questions to consider)
Do you need to monitor appliances that plug into power points, or wired-in equipment, or whole circuits of a building?
Is it single phase or 3-phase?
How many circuits do you need to monitor at once?
What information do you want to record? (e.g. current, voltage, kilowatt-hours, peak kilowatts, peak current, power factor, time of usage, spikes and surges, etc)
What accuracy do you need? (e.g. better than 1% for billing, or less accurate for energy use comparisons)
Do you need a permanent or temporary setup?
How often would you need to take measurements?
How often do you want to collect the recorded data from the power logger?
Please don't hesitate to contact us for help choosing the right product.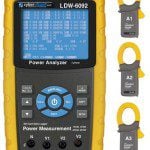 CyberVisuell handheld 3-phase power data loggers & analysers: Measure and record real power, kWh, power factor, phase, volts, amps, frequency etc.
Price guide: $2261+ (ex-GST)