SingleRide Single-trip PDF Temperature data Logger
Small, light, waterproof and packaged in food packaging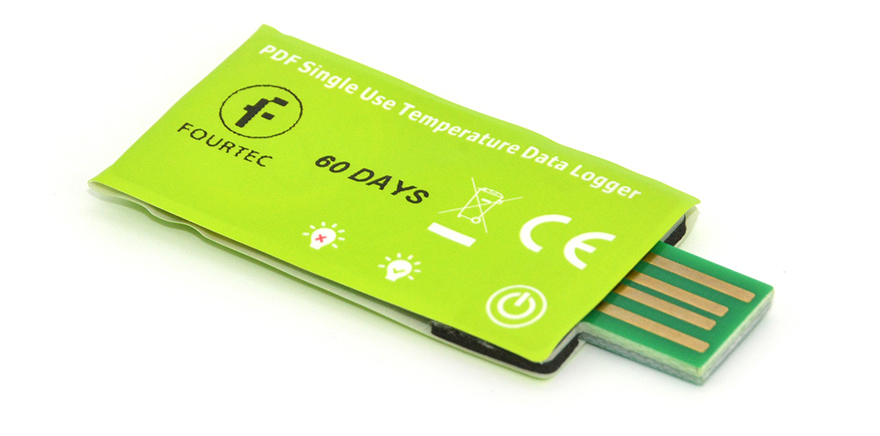 Small, light, waterproof and packaged in food grade packaging, this data logger is  ideal for monitoring the temperature during the transport of: food products, pharmaceuticals, transport of works of art, flowers, transport of blood, etc. Recordings start and stop at the press of a button. Just connect it to the USB port of any computer to get the PDF report directly without software and driver.
The predefined parameters (sampling frequency, delay, alarm levels, time zone) can be modified according to customer requirements (MOQ applies).
The standard model comes with UTC time zone, 10 minute sampling interval, 2-8 degree alarm limits, 10 minute delay on activation.
Key SingleRide Benefits:
Generate PDF report without software or driver
Integrated USB interface
6 marked points supported
Status LED and alarm indication
SingleRide Single-trip PDF Temperature data Logger
---
Single-trip low cost PDF logger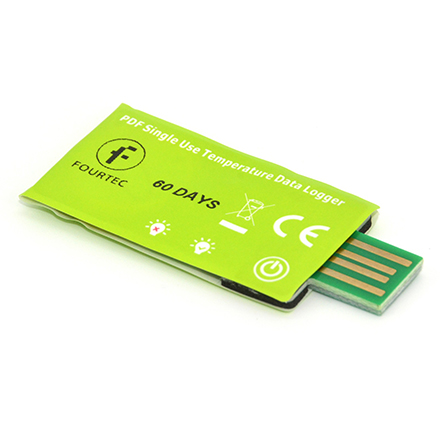 Click here to show/ hide more info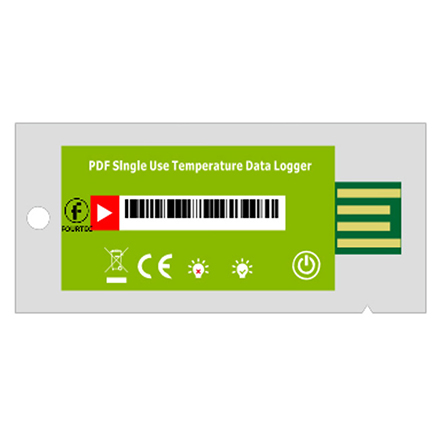 Small, light, waterproof and in a food safe wrapper, this data logger is ideal for monitoring the temperature in transport, storage and testing process. Recordings started and stopped by pressing a button. Just connect it to USB slot on any computer to get PDF report directly without any software and driver.
Generating pdF report without any software and driver
Build-in UsB interface
6 mark points supported
Led status and alarm indication
Operating the SingleRide Temp PDF:
Do not start the device if you do not intend to use it! once started, the device could not be re-started again.
Press and hold button for 3 seconds until green led lights to start the logger.
Sampling will start 10 minutes after activation.
If the green led doesn't light please do not use this logger
Predefined sample rate is 10 minutes with alarm levels at 2°C and 8°C.
When logging, the green led will flash once every 10 sec. If alarm event had happened then red led will flash once every 10 sec.
Press the button once while logging and the red led lights once to indicate one point mark finished.
The data logger will stop logging when memory full or connected to UsB port.
Specifications:
| | |
| --- | --- |
| Logger type | Single-use |
| Temperature range | -30°C to 70°C |
| Temperature accuracy | ± 0.5°C |
| Temperature res. | 0.1°C |
| Data storage capacity | 8,640 samples – 60 days |
| Sampling rate | One per 10 minutes (pre-defined) |
| Alarm levels | Low 2°C and High 8°C (pre-defined) |
| Power supply | 3V CR2032 battery |
| Battery life/shelf life | 6 months / 1 year |
| LED Green (sampling); | Red (sampling, alarm) |
| Activation modes | Immediate with 10 minutes delay |
| Connection mode | Auto stop when connecting to PC |
| Protection | Class IP67 |
| Standards compliance | CE, EN12830, ROHS, GSP, 21CFR11 |
| Dimensions | 62mm x 27mm x 4mm |
| Weight | 10g |
| Report type | PDF with graphics |
| Report source | Self-generated, no software needed |
Solutions:
Cold Chain
Food & Food Processing
Transportation & etc
SingleRide Brochure (pdf file, opens in new tab)
How to download data?
Tear or cut off the plastic bag and connect to available USB port on a PC. The RED LED will flash while a PDF report is being generated. The GREEN LED will light when finished. Then a U-disk will be available with a PDF report.