ACR PowerWatch
Voltage Disturbance Recorder (VDR)
ACR PowerWatch Voltage Disturbance Recorder
Do you have equipment failing repeatedly or behaving strangely? Expensive out of warranty repairs due to voltage surges? Get to the root of the problem by measuring your incoming mains voltage and recording every surge, sag, spike and dip that happens.
PowerWatch 220/240V is the easiest way to monitor and record critical voltage disturbance information from any 220/240 volt Australian power outlet. Just set up your pre-determined voltage threshold values, or use the industry standard default values, and plug it in to a GPO power point. No wiring or dangerous connections required.
The data you record with the PowerWatch can be easily presented to your electricity authority or building manager, for discussion and complaints about power quality.
Applications:
Troubleshooting repeated equipment failures
Medical and scientific equipment
Point-of-sale terminals
Computers
Other sensitive electronic equipment
Specifications
Surge, Sag & Outage
Hot to Neutral
Neutral to Ground
Range
0 to 270 V rms
3 to 150 V rms
Accuracy
+/- 2 V rms + resolution
+/- 1 V rms + resolution
Resolution
2 V rms
1 V rms
Impulse
Hot to Neutral
Neutral to Ground
Range
100 to 2500 V peak
50 to 2500 V peak
Accuracy
+/- 10% of reading
+/- 10% of reading
Resolution
10 V
10 V
Width Detection
1 µsec minimum
1 µsec minimum
Phase Angle Accuracy
+/- 1° (20 to 180°, 200 to 360°)
+/- 1° (20 to 180°, 200 to 360°)
Phase Angle Resolution
1°
1°
Frequency:
Range
45 to 65 Hz
Accuracy
+/- 0.1 Hz (3 cycles minimum)
Resolution
0.1 Hz
Time Events (< 1 sec):
Accuracy
+/- 0.5 cycle
+/- 1 cycle
Resolution
0.5 cycle
1 cycle
Time Stamp (> 1 sec):
Accuracy
+/- 2 seconds/day + resolution
Resolution
8 seconds
Data on ACR PowerWatch 220/240V (pdf, opens in a new tab)
PWV-002-A   PowerWatch Power Quality Analyzer/Event Recorder (220 Volt, Australian plug style): Approx $1,020+GST  – Please contact us for a quote.
Also required: PW100-LIC102 EventReader Software with USB cable for Windows, see below.
Software: EventReader for Windows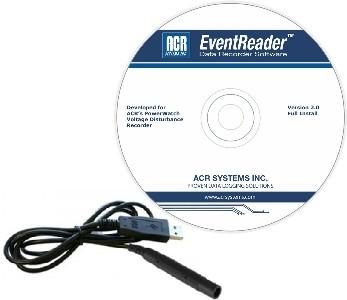 EventReader is a powerful and easy-to-use power quality analysis software application developed exclusively for the ACR PowerWatch Voltage Disturbance Recorder.  With no programming hassles or complex menus, setup and downloading of data from the PowerWatch VDR occurs in seconds.
Key Features
Quick and simple downloads
Detailed site reports
User-selectable threshold values
Hot-to-neutral and neutral-to-ground values
Quick summary option
Powerful and easy to use
Downloading, Communicating and setting up a PowerWatch
Downloading and communicating with the PowerWatch could not be more simple: plug the optical interface cable into the USB port of your computer and point the other end to the optical port on the PowerWatch. Communication begins immediately. No tools, cards or docking stations are required. The following information is displayed in EventReader software: voltage disturbance threshold values, site descriptions, filename, start and stop date and time, and the recorder's serial number. Configure the threshold values for each voltage disturbance type or use the industry standard default values.
PW100-LIC102  EventReader Software Kit for Powerwatch, includes LIC-102 USB interface cable: Approx $195+GST – Please contact us for a quote.