PCI Express Communication Cards
PCIe serial and RS-232/422/485 serials
PCI Express Communication Cards
PCI Express serial communication cards contain PCIe serial and RS-232/422/485 serials design. PCI Express serial cards are made to applied to various industrial automation applications.
PCI Express Serial (RS232 / 422 / 485) cards
PCI Express Networking cards
PCE-USB
---
PCI Express x4, 4-Port USB 3.0 Expansion Card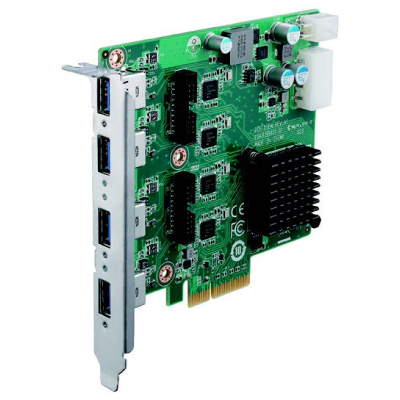 Click here to show/ hide more info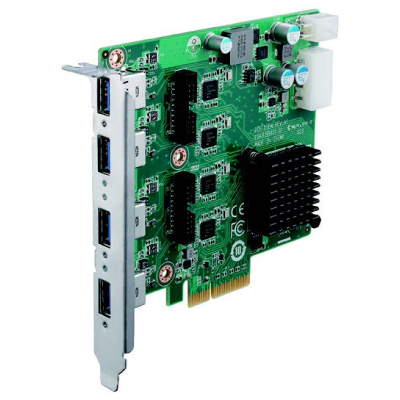 PCE-USB4 is a 4-port PCIe x4 expansion card aimed at industrial imaging applications. Featuring four independent Renesas μPD720202 USB 3.0 host controllers, a Gen 2 PCI Express® x4 interface, and a per-port bandwidth of 5 Gbps when operating four ports simultaneously, PCE-USB4 delivers maximal per-port performance. PCE-USB4 features four USB 3.0 ports (for expansion, PCE-USB8 features eight USB 3.0 ports) with 1500 mA current to ensure stable power for external USB devices. PCE-USB4 is a high-bandwidth industrial-power expansion card designed for machine vision, factory automation, and medical applications, as well as any other applications that require high data transfer speeds.
Features:
Four USB 3.0 host controllers
Support 1500mA Max. Current per Port
Supports four or eight USB 3.0 ports
3 Ports with Locking connector compliant with USB3 Vision V1.0 Standard-A
Compliant with USB 3.0 Specification and Intel® xHCI Specification, Revision 1.0
PCI Express x4 interface
Supports Microsoft Windows 7/8.1 and Linux operating systems
Specifications:
| | | |
| --- | --- | --- |
| Part Number | PCE-USB4-00A1E | PCE-USB8-00A1E |
| | | |
| I/O* | | |
| USB3.0 | 4 | 8 |
| | | |
| Environment | | |
| Temperature (Operating)* | 0~60°C(32 ~140°F) | 0~60°C(32 ~140°F) |
| Temperature (Storage)* | -40~85°C(-40 ~185°F) | -40~85°C(-40 ~185°F) |
| | | |
| General | | |
| Bus* | PCIe | PCIe |
| Certifications* | CE, FCC, RoHS | CE, FCC, RoHS |
| Dimensions* | 118 x 111 mm | 118 x 111 mm |
| | | |
| Communications* | | |
| Ports | 4 | 8 |
| Serial/CAN/GPIB/USB | USB 3.0 | USB 3.0 |
| | | |
| Power* | | |
| Current | 1500mA per port | 1500mA per port |
Datasheet on PCE-USB (pdf, opens in a new tab)