ACR SmartReader Plus 9 Pulse Data Logger
ACR SmartReader Plus 9 Pulse Data Logger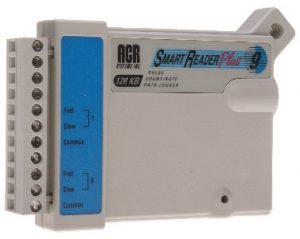 The SmartReader Plus 9 is a versatile data logger designed for easy counting and recording of switch contact closures and voltage pulses. It has two pulse/contact channels. Durability is assured with a 3-year logger warranty and 10-year battery life.
Applications:
Monitoring fluid (eg. water meters) and air flow, energy consumption from power meter pulse outputs, wind speed, shaft RPM, and rainfall (from tipping bucket sensors), etc.
Specifications:
Range
4095 pulses/sample period
Accuracy
+/- 1 pulse/sample period
Input Voltage
Low = 0 to 0.5 volts DC
High = 4.5 to 24 volts DC
Input Impedance
> 1.0 M ohm for Vin < 5V
> 4.0 K ohm for Vin > 5V
Min. Pulse Width
50% Duty Cycle:
Slow input: 2 milliseconds
Fast input: 10 microseconds
Maximum Frequency
100 KHz
Switch Inputs
Input Type: Uncommitted "dry" contacts (relay or switch)
Excitation: 5 microamps contact current
3.6 volts open circuit
Contacts: Sealed gold-plated recommended
The base sampling interval is 8 seconds, longer intervals can easily be selected. Faster logging, up to 25 samples per second, is supported using an external power source (USB cable or BP-101 Battery Pack option, see below).
Data on SmartReader Plus 9 (SRP9)
| Part No | Product Details | Price (ex-GST) |
| --- | --- | --- |
| SRP-009-128K | Two channel, 12-bit, 128 KB data logger (Two external pulse rate/frequency channels). | $1,610.00 |
Prices are subject to change without notice – updated August 2020
Also required with SmartReader Plus loggers:
TR3-IC102  TrendReader software for Windows with USB cable, see below
Software: TrendReader for Windows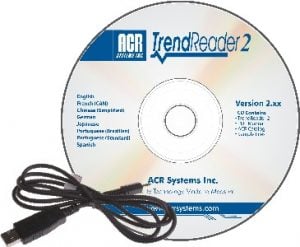 TrendReader® 3 is a powerful, versatile and easy-to-use software application for all versions of windows, designed exclusively for ACR's SmartReader Plus, SmartReader, IAQ, OWL, TRH, JR and Nautilus data loggers.
Powerful features and easy setup enables collected data to be thoroughly analyzed in seconds.
TrendReader Software details includes download trial (ACR site, opens in new tab)
Data Sheet on TrendReader 2 Rev 6, 7/11/2012 (pdf, opens in a new tab)
Data collected in ACR Data Loggers is downloaded using the USB port of a computer, using the bundled IC-102 USB cable.
TrendReader Software features:
Simple logger setup window
Compound multiple graphs to a resultant graph
Export data to most spreadsheet formats
Interface with remote loggers via modem
Multi-graph display
Zoom
Scale units
Add comments
Data table view
Updates: TrendReader updates are available free of charge to existing users at the ACR website – downloads.
The USB cable has a minijack plug on one end for the SmartReader Plus logger, and a USB plug on the other end for the PC.
| Part No | Product Details | Price (ex-GST) |
| --- | --- | --- |
| TR3-IC102 | TrendReader3 software package for PC, including IC-102 USB interface cable for SRP loggers | $295.00 |
An RS-232 Serial logger cable is also available, for connecting SRP loggers to serial device servers etc:
| Part No | Product Details | Price (ex-GST) |
| --- | --- | --- |
| IC-101  | RS-232 9-pin PC serial port to logger interface cable, for SmartReader Plus loggers | $195.00 |
For connecting SmartReader Plus loggers directly to modems, a different serial cable is available:
| Part No | Product Details | Price (ex-GST) |
| --- | --- | --- |
| IC-101RFA | DE9M connector w/built in Null Modem for connection to DCE (RF/Cellular Modem), c/w 30cm M-M Stereo Cable | $195.00 |
Prices are subject to change without notice – updated August 2020
BP-101 Battery Pack
SmartReader Plus Data Loggers require the BP-101 Battery pack to log at rates faster than once every 8 seconds. A male stereo jack and cable plugs directly into the communication port on the logger. Uses 4 AAA batteries (included) and are user replaceable.
Size: 80 x 55 x 40 cm (3.25 x 2 x 1.5 inches)
Portable power supply for SmartReader Plus data loggers to allow them to sample faster than 8 seconds.
| Part No | Product Details | Price (ex-GST) |
| --- | --- | --- |
| BP-101 | Battery Pack, Fast Sampling – BP101, Portable power supply for SmartReader Plus data loggers to allow them to sample faster than 8 seconds. | $105.00 |
Prices are subject to change without notice – updated August 2020