Product Introduction
Quick and convenient COVID-19 testing has become a key strategy in managing the ongoing pandemic. Effective on the spot testing, without lab support, enables nurses and physicians to diagnose afflicted individuals quickly. Advantech's customer developed a portable point-of-care platform capable of meeting these needs. This platform leverages Advantech's innovative IDK-1110P PCAP open frame LCD display panel to empower a wide range of disease diagnostics and healthcare management applications.
System Requirements
Delivering rapid test results, while reducing the risk of COVID-19 transmission necessitated a solution adaptable to medical environments and capable of gloved operation. As such, Advantech's customer developed an end-to-end portable point-of-care testing solution that delivers multiple results in 15 minutes. This solution enables nurses and physicians to process tests conveniently without lab support, yielding a powerful front-line diagnostic decision tool.
Product Description
This platform leverages Advantech's IDK-1110P 10.4″ PCAP open frame display panel with 1024×768 XGA resolution. Its 500nits backlight brightness is suitable for indoor and bright sunny environments found in hospitals. The panel is equipped with a 10-point projective capacitive touch (PCAP) solution that supports the gloved operation and features an anti-fingerprint surface coating that reduces smudging and eases cleaning.
IDK-1110P further supports the LVDS signal interface and utilizes a backlight driving board to ease connection with Advantech single board computers, which makes it easy to put together a complete solution. Its ready-to-use VBIOS settings deliver integration convenience — saving on development and reducing time to market.
This solution's touch function leverages a plug-and-play USB interface. This means IDK-1110P does not require specific driver installation/calibration when used with Windows 7 or later OS. The 10-point PCAP touch solution further enhances COVID safety by supporting operation while wearing latex medical gloves. It similarly avoids malfunction using EMI shielding that minimizes electric interference in lab or hospital applications.
System Diagram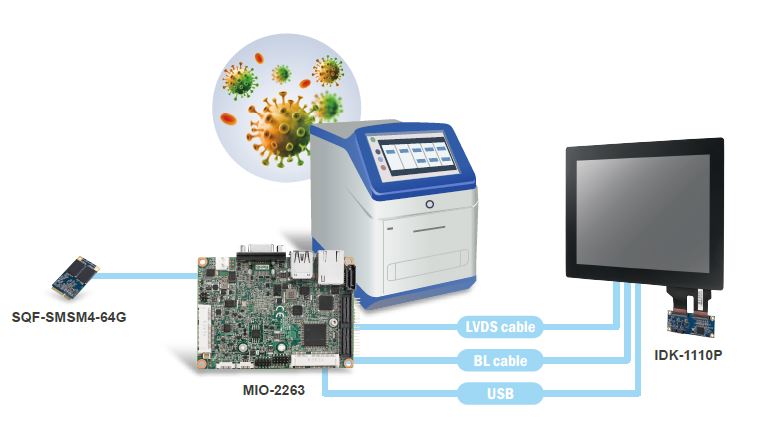 ESIS is the leading supplier of electronic industrial equipment in the Australian market since 1971. Contact us to discuss your needs and discover a solution from our wide range of devices.