CO
2

Data Loggers

Why Monitor CO2 levels?
There are legal limits to the level of carbon dioxide that you can expose people to.

A high level of carbon dioxide in a room indicates inadequate ventilation. This can cause
headaches, fatigue, eye and throat irritation, increased heart rate, dizziness,
fatigue, rapid breathing visual and hearing dysfunctions.

1000ppm should be used as an upper limit for all indoor areas.
Exposure to higher levels may cause unconsciousness or death within minutes of the exposure

600ppm People notice the air is "stuffy."

1000ppm Indicates inadequate ventilation. Complaints of fatigue, headaches ad eye/throat irritation will be widespread.
Should be upper limit for indoor areas.

10,000ppm Some people may begin to feel; shortness of breath, difficulty in breathing,
rapid pulse rate, headaches, hearing loss, hyperventilation, sweating, and fatigue.
Can cause drowsiness with prolonged exposure.
On this page:
On other related pages:
Testo 160 Indoor Air Quality WiFi Data Logger
The Testo 160 IAQ (Indoor Air Quality) data logger is a wall mount, WiFi enabled data logger that measures CO2 (Carbon Dioxide), Temperature, Humidity, and Barometric Pressure, all in one compact unit. Ideal for public buildings, offices, and education institutions, the logger keeps track of indoor air quality and uploads the measured values automatically via WiFi to the Testo Cloud.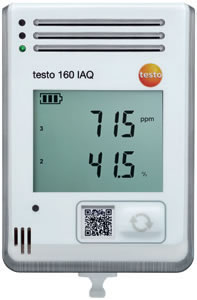 With its integrated WiFi and the free Testo Cloud service, this data logger provides you a complete monitoring system for indoor air quality. You can access all data at any time with the Testo Saveris 2 App, or by web browser.
The built in LCD display also lets you check the current measurements instantly without needing to go online.
Features
Measurement value transfer by wireless LAN to the
Cloud store
Measurement values can be called up on all end devices
Alarm notification by SMS or e-mail
Inconspicuous design and small dimensions
Deco-cover for optimum individual adaptation of the logger
to the surroundings
Testo 160 IAQ Brochure with Specifications (PDF)
0572 2014 Testo 160 IAQ Indoor Air Quality Data Logger with WiFi: $867+GST (10/2019)