CO2 Measurement - Desktop & Handheld
Why Monitor CO2 levels?
There are legal limits to the level of carbon dioxide that you can expose people to.
A high level of carbon dioxide in a room indicates inadequate ventilation. This can cause
headaches, fatigue, eye and throat irritation, increased heart rate, dizziness,
fatigue, rapid breathing visual and hearing dysfunctions.
1000ppm (0.1%) should be used as an upper limit for all indoor areas.
Exposure to higher levels may cause unconsciousness or death within minutes of the exposure
360ppm Normal
600ppm People notice the air is "stuffy."
1000ppm Indicates inadequate ventilation. Complaints of fatigue, headaches ad eye/throat irritation will be widespread.
Should be upper limit for indoor areas.
10,000ppm Some people may begin to feel; shortness of breath, difficulty in breathing,
rapid pulse rate, headaches, hearing loss, hyperventilation, sweating, and fatigue.
Can cause drowsiness with prolonged exposure.
On this page:
On other related pages:
KeepAlert CO
2

Meters
measure CO
2,

temperature, humidity, date and time

Excess CO2 causes drowsiness, headaches and poor concentration.
The Keep Alert Desktop CO2 Meters measure the level of CO2 in the air and alerts you when levels become too high. The
Know when to have a break, open a door or window, or call in the air-conditioning technicians.
KALOG KeepAlert CO2 Logger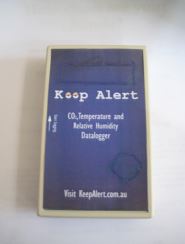 The KeepAlert Logger is designed to measure CO2 levels as well as temperature and humidity.
It can 'wake up', take readings, store them in memory and then go back to sleep.
This conserves battery power. It has a memory of 5,200 readings.
The KeepAlert Logger measures up to 30% CO2 level.
 Automatic recording of CO2, Temperature and Humidity
 Easy to download information
 Reusable
 Robust
 No need for External Probes
 Cleanable
 NATA Certifiable
 Replaceable batteries
 Non-dispersive Infrared measurement
 Portable
 Single Unit
 On off switch
 Uses 4 x AA batteries

How is it Used?
1. Turn off the KeepAlert Logger
2. Set up how often you want the CO2, temperature and humidity recorded with the user-friendly software.
3. Place the KeepAlert Logger into the area where data is to be logged.
4. Turn On
5. When required plug the KeepAlert Logger back into the computer and see exactly what happened, when and for how long.
6. Save your results for later reference.
Download the pdf data sheet for full specs, accessories and software (pdf file, opens in new tab)
KALOG KeepAlert CO2 Logger $820+GST
Uses
 Cold Chain Management
 Agricultural Production
 Transport
 Shipping
 Monitoring of office environments
 HVAC Systems
 Storage and Warehousing
 Agricultural Research
 Horticulture
 Greenhouse and Hydroponic Gardens
KALOGDISP KeepAlert CO2 Logger with Display
Similar to above, with added two line display.
KALOGDISP KeepAlert CO2 Logger with display $1100+GST
KAHH KeepAlert Handheld CO2 Meter
The KeepAlert Handheld CO2 Meter is designed to measure CO2
levels as well as temperature and humidity.
The KeepAlert Handheld CO2 Meter measures up to 1% CO2 levels.
Ideal for spot checking many locations.
The perfect method to double wall mounted units and to evaluate those areas where a monitor is not installed.
Can be used in any location.
Brochure on KeepAlert Handheld CO2 meter (pdf file, opens in new tab or window)
• Displays CO2 , Temperature and Humidity
• Reusable
• Robust
• No need for External Probes
• Cleanable
• Replaceable batteries
• Non-dispersive Infrared measurement
• Portable single unit
• On off switch, Auto Off function
• Uses 4 x AA batteries

Uses
Cold Chain Management
Agricultural Production
Transport or Shipping
Monitoring of office environments
HVAC Systems
Storage and Warehousing
Agricultural Research
Horticulture
Greenhouse and Hydroponic Gardens

Specifications

Minimum CO

2

0ppm 
Accuracy
0.2% vol
Maximum CO

2

10,000ppm (1%)
Minimum Temperature
 -30°C
Accuracy
0.2°C @ 25°C
Maximum Temperature
60°C
Resolution 
0.2°C or 0.1°C
Minimum Humidity 
0%
Accuracy 
+/-3%
Maximum Humidity
100%
Size 
170mm x 70mm x 55mm
Sample Rate 
1 min to 255 min 
Auto Off 
Yes
Housing Material 
Polycarbonate 
Guarantee 
1 year
KAHH KeepAlert Handheld CO2 Meter: $580+GST