Most people are blissfully ignorant about the sophisticated fire protection systems installed in commercial premises. But when an emergency happens, these systems can save hundreds of lives. Often they also protect the properties from excessive damage.
Compliant Fire Services are a South Australian company who design, supply and install fire protection systems in commercial and government premises, such as multi-storey office buildings, council works depots, car parks and so on. They have installed fire systems in many different sites in Adelaide city and suburbs, with sophisticated fire panels and telemetry systems.
Normally when the fire alarm is triggered in a site like this, the fire system automatically contacts the South Australian Metropolitan Fire Service who sends fire trucks out, to deal with the immediate issue.
But once the initial emergency is dealt with, there are other secondary issues that commonly need to be addressed. For example, plant and equipment might have been shut down and need to be reset; localised areas inside the building might need to be closed off and have rectification work done; or fire sensors might need to be checked for false alarms.
It is the responsibility of staff working in the organisation to coordinate these tasks. However often the responsible staff are not aware when the fire alarm has been triggered, so these important tasks can be delayed by hours or even days. This is especially a problem if the alarm is triggered outside normal business hours.
Hence Compliant Fire Systems looked for an SMS alerting system that could be connected to different types of fire panels, to send SMS messages to several staff to alert them of each fire alarm event.
Requirements
6 SMS controllers, for 6 different buildings around Adelaide
The units must be 'industrial grade', for maximum reliability
The SMS unit must operate on the current generation mobile networks (4G) and not be locked in to a specific vendor.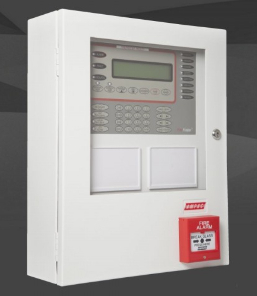 The SMS controller's inputs need to be easily interfaced to several different brands of fire panels – preferably using dry contacts.
Fire panel models to interface include:
Ampac Fire Finder
Panasonic G3
Edwards EST 2
One of the units needs 3 dry contact inputs to connect to a network of 3 fire panels with separate outputs. The other units all need 1 dry contact input each.
The units need to send messages to at least 4 recipients.
The units should accept 24V DC power.
A battery backup was not required as the units were to be powered by the existing battery backed 24V supply from the fire panels.
Solution
The CyberVisuell CYCON-1280-4G SMS controller was chosen as it met all the requirements. Six units were supplied by Esis, which were installed into six different premises, connected to fire panels.
The CYCON-1280-4G offered simplicity of configuration, using easy SMS commands. It also offered the convenience of updating message recipients and changing messages remotely by SMS, which saves staff from making extra site visits in future.
Each unit was programmed to send SMS messages to 4 recipients, based on one dry contact output from each fire panel. One of the sites however has a network of 3 fire panels, requiring 3 dry contact inputs to give 3 different SMS messages, identifying which part of the premises had the alarm.
Results
The systems are working well, generating SMS alerts whenever the fire alarms are triggered. This allows the staff to organise rectification works, and reset plant and equipment on the sites quickly and efficiently following a fire alarm event.
Future Enhancements
One recent fire event occurred during the night. The relevant staff members were asleep at the time, and the SMS messages sent to their phones did not wake them up. While this could be addressed by the staff setting their phones to different (louder) ringtones for that contact number, it would be better if the system could send multiple alerts. Hence Esis is now working with CyberVisuell to get the firmware upgraded with a feature to send multiple SMS alerts to the staff on an event, to make sure that messages are not missed.
The CyberVisuell CYCON-1280 series of SMS alerting systems are Australian designed and built, and include all the features needed for applications like this. The units are exceptionally easy to setup and use — electricians and fire engineers love them because of their quick and simple setup.
For more information on ESIS' comprehensive range of SMS alerting systems please contact us.