Building automation systems are normally used to control the humidity, temperature, and the quality of air indoors. A multi-parameter weather transmitter by Vaisala, WXT520 has been integrated by a major building automation manufacturer, into their automation solutions for increasing building efficiency via weather measurement.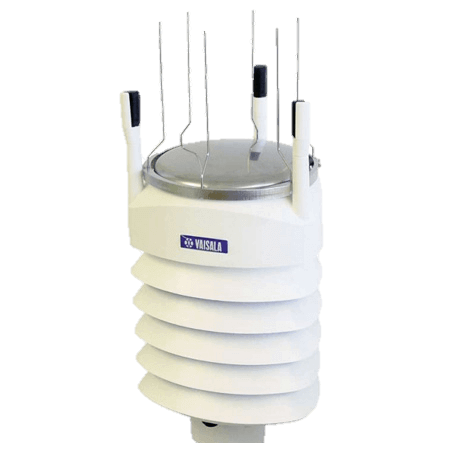 The Inefficiency of Reactive Systems
BAS or Building Automation Systems are created in a manner to provide assurance, comfort, and safety to occupants. Most of these systems are reactive in nature, which means that when the humidity or temperature decreases or increases beyond a certain limit, the Ventilation, Heating, and Air Conditioning systems are automatically turned on. This helps in regulating the building humidity and temperature but mostly with compromised efficiency.
Efficiency is Increased Through Prediction
The distribution of heat within a building is impacted by the outside temperature, solar radiations, and wind. Integrating weather measurement data frequently allow BAS to get accustomed to the weather changing conditions. It facilitates further intelligent cooling and heating by predicting the short-term effects of weather changes. For instance, if the system for heating is accessed on an overcast day and the sun suddenly brightens, then the system would engage in calculating the effects of solar radiation for optimizing the heaters so that they turn off early and save valuable energy.
Greater Efficiency and Safety
Weather detection data can be effectively used to fine tune the proper utilization of HVAC equipment. For example it can support decision-making abilities for distributing load between different sizes of HVAC components, for optimal energy usage.
Additionally, weather management data contributes to safety, especially in instances where the facility maintenance team is looking for accurate data on the weather to certify safe working conditions while working on the roof or servicing the side of a building.
The WXT520 and its latest version WXT530 series
The WXT520 Vaisala Weather Transmitter has been in use by top tier multinational companies for improving BAS efficiency on a regular basis. The WXT520 device is a combination of six different weather parameters compressed into one instrument. It helps in measuring liquid precipitation (rainfall), temperature, relative humidity, wind direction, wind speed, and barometric pressure. The instrument is made to be maintenance-free with no movable components. For added robustness, the WXT520 has incorporated WINDCAP and RAINCAP, two most renowned sensors. The WXT520 also comes with a wide range of serial communications options.
In recent times the WXT520 has been replaced by the newer WXT530 series, which is very similar but introduces some important new features:
Available with all or just a subset of the sensors on board
Now available with Modbus protocol support on RS485
Analog input options allow additional sensors such as solar radiation, water level, etc to be connected
Analog outputs for easy integration into existing systems
ESIS is the leading supplier of industrial electronic equipment in the Australian market since 1971. With a wide variety of products and the capabilities to do system integration, we can recommend a solution to support your requirements. Simply contact us to discuss your needs.