In these times of crisis, remote power monitoring has become absolutely critical. Staff working from home rely on data centre infrastructure to keep hospitals, telecoms, and government departments running. With the PowerZook stand-alone SNMP power sensor, you can start monitoring power usage without any downtime. Just clip the sensor onto the existing power cable, connect up the Ethernet cabling, and follow the setup procedure – you can start measuring the rack's power usage almost instantly.
Many organisations in the UK and Europe have started using PowerZook recently. Following is a selection of these case studies:
Regional UK Health Service
The PowerZooks are being used to monitor the power usage of 6 basic 16A PDUs in the customer's critical data center and disaster recovery racks. The PowerZooks have been integrated with Jacarta's Pyxis SNMP software for the central monitoring of the sensors in order to provide the customer with an additional level of power alerting and early visibility to potential problems.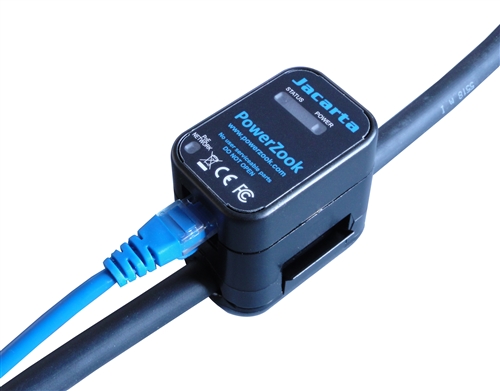 Telecoms Provider
PowerZooks have been deployed to monitor remote telecoms racks located in multiple prestigious locations including government buildings, sports stadia, and major shopping centers. Each PowerZook is being monitored remotely using SNMP for power usage data and any unusual power situations. To help prevent any downtime, alarm thresholds can be set within the telecoms provider's management software to provide early warning alerts when those power thresholds are breached.
Government Department – Server Rooms
As power cannot be switched off in the customer's critical locations for the installation of intelligent PDUs, PowerZook was the power monitoring product of choice; PowerZooks can be installed non-invasively without incurring downtime and without the need to strip or modify cables. Each PowerZook is monitoring a basic rack PDU for power usage, power events, and any unusual power patterns.
Data Centre Hosting Company
PowerZooks are being used to monitor basic PDUs in a data hall so that the power being drawn by the equipment of various customer racks can be recorded, analyzed and reviewed. The device installation could be carried out quickly and without disruption to hosting services.
ESIS is the Australian distributor for Jacarta, a leading UK based manufacturer of data centre monitoring products. In addition ESIS offers a wide range of data logging, industrial computing and M2M products, as the leading supplier of industrial electronic equipment in the Australian market since 1971. Choose from a range of diverse products to best suit your requirements. Contact us today to discuss your needs.
Article Courtesy of Jacarta.